Destination entry by map
Selecting the destination
1. "Navigation"
2. "Map"
The current position of the vehicle is indicated on the map.
3.

"Interactive map"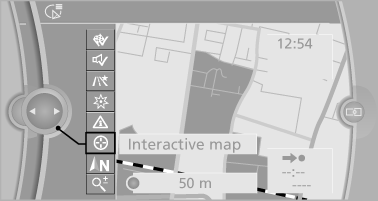 4. Select the destination with crosshairs.
▷ To change the scale: turn the controller.
▷ To shift the map: move the controller in the required direction.
▷ To shift the map diagonally: move the controller in the required direction and turn it.
Specifying the street
If the system does not recognize a street, one of the following is displayed:
▷ The name of a street in the vicinity.
▷ The county.
▷ The coordinates of the destination.
Additional functions
Additional functions are available on the interactive map after the controller is pressed.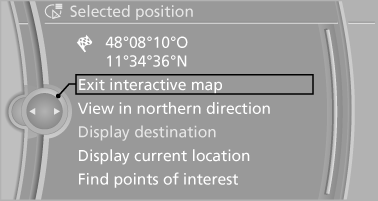 ▷

Select the symbol.
"Start guidance" or "Add as another destination"
Add a destination as a further destination
▷ "Exit interactive map": return to the map view.
▷ "View in northern direction" or "View in driving direction"
▷ "Display destination": the map section around the destination is displayed.
▷ "Display current location": the map section around your current location is displayed.
▷ "Find points of interest": the search for special destinations is started.
See also:
Diagnosis OBD
On the driver's side is an OBD socket for checking components relevant to the composition of the vehicle's emissions. ...
Functional requirements
The system must have been initialized when the tire inflation pressure was correct; otherwise, reliable signaling of a flat tire is not ensured. Initialize the system after each correction of th ...
For US customers
The following only applies to vehicles owned and operated in the US. If you believe that your vehicle has a defect which could cause a crash or could cause injury or death, you should immediately i ...