Ski bag
Capacity
The ski bag can be used to transport up to four pairs of skis with a length of up to 6 ft/2.10 m or, depending on the binding, up to two snowboards with a length of up to 5 ft/1.60 m.
Preparing and loading the ski bag
1. Fold open the center armrest on the inside.
2. Open the inside cover and cargo area by pressing the button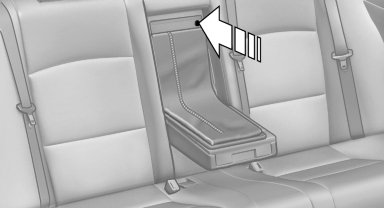 3. Lay out the ski bag.
4. Load the ski bag. If necessary, wrap the sharp edges of the skis
5. Insert the tongue plate into the belt buckle.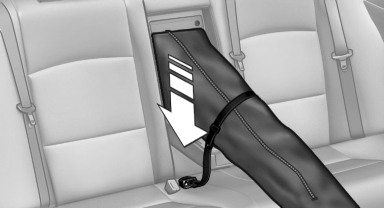 6. Tighten the retaining strap.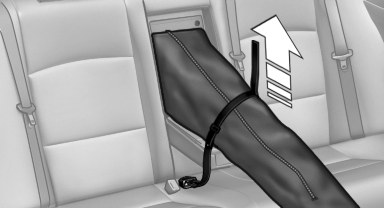 Securing the ski bag Secure the ski bag by tightening the retaining strap; otherwise, the contents could present a source of danger to the passengers, for example during braking or evasive maneuvers.◀
Removing the ski bag
The ski bag can be removed entirely, e.g., to dry quickly or to use other inserts.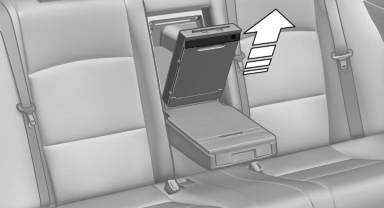 1. Pull the handle forward and lift the ski bag out.
2. Close the cover in the cargo area.
More information on the various inserts available can be obtained from your service center.
See also:
Steering wheel
Adjustments Do not adjust the steering wheel position while the car is in motion; otherwise, there is a risk of an accident due to unexpected movement. 1. Fold the lever down. 2. M ...
CD/DVD changer
In the glove compartment In the glove compartment The BMW CD/DVD changer for six CDs/DVDs is located in the glove compartment Controls and displays Controls and displays 1 Empty CD/DVD comp ...
Headlamp courtesy delay feature
The low beams stay lit for a short while after the ignition is switched off, if the lamps are switched off and the headlamp flasher is switched on. Setting the duration 1. "Settings" ...