Software Update
The vehicle supports various external devices depending on the current software version. With a software update, the vehicle can support new cell phones or new external device, for example.
The updating of the software is done via:
▷ USB.
Updates and related current information is available at www.bmw.com/update.
▷ TeleService.
Existing software can be updated directly via the vehicle.
Displaying the current version
The currently installed software is displayed.
1. "Settings".
2. "Software update".
3. "Show current version".
SelectDesired version to displayAdditional information.
Updating software via USB
The software may only be updated when the vehicle is stationary.
1. Store the file for the software-update in the main director of a USB flash drive.
2. Insert the USB flash drive into the USB interface of the USB audio interface in the center armrest. An update via the USB interface in the glove compartment is not possible.
3. "Settings".
4. "Software update".
5. "Update software"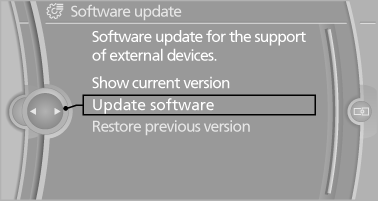 6. "Start update".
7. "OK"
All listed software updates are installed.
Restoring the previous version
If it should become necessary, the software version prior to the last software update can be restored.
The previous version may only be restored when the vehicle is stationary.
1. "Settings".
2. "Software update".
3. "Restore previous version".
4. "OK" Double-click.
All listed software updates are removed.
Note
While the software is being updated or a previous version is being restoredBMW Assist, Office functions and the connected devices are temporarily unavailable. Wait several minutes for the functions to become available again.
See also:
Safety switch
The safety switch in the driver's door can be used to prevent children, for example, from opening and closing the rear windows using the switches in the rear. Switching on and off Press the butt ...
Coolant level
Checking 1. Let the engine cool. 2. The coolant level is correct if it lies between the minimum and maximum marks. The marks are on the side of the coolant reservoir. Adding engine oil 1. Let ...
Driving through water
Maximum water depth: ▷ BMW X5: 20 inches/50 cm. ▷ BMW X6: 17 inches/45 cm. Adhere to water depth and speed limitations Only drive through water up to the above-mentioned depth at n ...