Opening the favorites
If an activated favorite is played back, the following message appears for approx. 20 seconds:
"Favorite alert!".

"Favorites"
Select the symbol while the message is shown.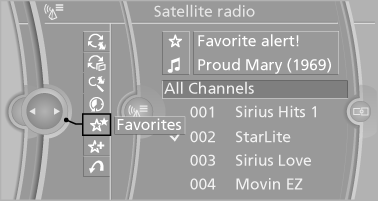 The displayed favorite is played.
If there is no message, the system changes to the My Favorites category. All favorites currently being broadcast can be selected from a list.
See also:
For your own safety
Maintenance and repairs Advanced technology, e.g., the use of modern materials and high-performance electronics, requires suitable maintenance and repair methods. Therefore, have this work perf ...
Rear
In the center armrest. Pull the center armrest forward at the strap. To open: press the button. To close: push both covers back in, one after the other. Pushing back the covers Push back the ...
Service Request
At a glance Sends information to your service partner to request the arrangement of a service appointment. The TeleService data is transmitted during a Service Request. If possible, your service ...