Opening the favorites
If an activated favorite is played back, the following message appears for approx. 20 seconds:
"Favorite alert!".

"Favorites"
Select the symbol while the message is shown.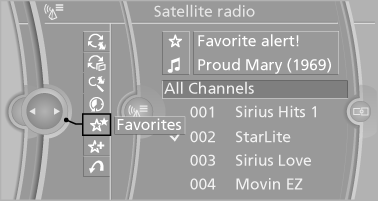 The displayed favorite is played.
If there is no message, the system changes to the My Favorites category. All favorites currently being broadcast can be selected from a list.
See also:
General information
Overloading the vehicle To avoid exceeding the approved carrying capacity of the tires, never overload the vehicle. Overloading can lead to overheating and increases the rate at which damage de ...
Entering appointment dates
Enter the dates for the required inspections. Ensure that the vehicle date and time are set correctly. 1. "Vehicle Info" 2. "Vehicle status" 3. "Service required" ...
Connecting a specific device
If more than one device is detected by the vehicle, the device at the top of the list is connected. A different device can be connected by selecting it. 1. "Telephone" 2. "Bluet ...