Timeshift
Approx. one hour of the program being broadcast on the channel currently being listened to is stored in a buffer. Prerequisite: the signal must be available.
The stored audio track can be played with a delay following the live broadcast. When the buffer is full, the older tracks are overwritten. The buffer is cleared when a new channel is selected.
Opening the timeshift function
1. "Radio".
2. "Satellite radio".
3.

"Replay - Time shift"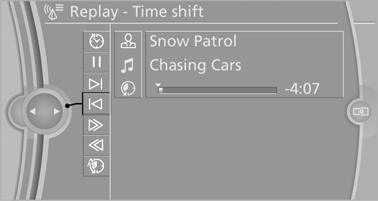 ▷ The red arrow shows the current playback position.
▷ The time difference to the live broadcast is displayed next to the buffer bar.
For live transmissions: "live".
Timeshift menu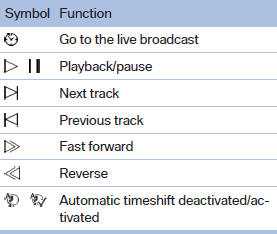 Automatic timeshift
When the function is activated, audio playback is stopped automatically in the event of:
▷ Incoming and outgoing telephone calls.
▷ Activation of the voice activation system.
▷ Muting.
The audio playback then continues with a time delay.
To activate:
1. "Radio".
2. "Satellite radio".
3.

"Replay - Time shift".
4.

"Automatic time shift".
To deactivate:

"Automatic time shift".
See also:
General information
Two different driver's seat and exterior mirror positions can be stored and retrieved for each remote control. Settings for the backrest width and lumbar support are not stored in memory. ...
Storage compartment in the rear
Storage compartment is located in the rear center console. ...
Start/Stop button
Start/Stop button Pressing the Start/Stop button switches the ignition on or off and starts the engine. The engine starts if the brake pedal is pressed when you press the Start/Stop button. ...