Timeshift
Approx. one hour of the program being broadcast on the channel currently being listened to is stored in a buffer. Prerequisite: the signal must be available.
The stored audio track can be played with a delay following the live broadcast. When the buffer is full, the older tracks are overwritten. The buffer is cleared when a new channel is selected.
Opening the timeshift function
1. "Radio".
2. "Satellite radio".
3.

"Replay - Time shift"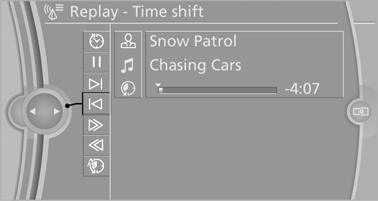 ▷ The red arrow shows the current playback position.
▷ The time difference to the live broadcast is displayed next to the buffer bar.
For live transmissions: "live".
Timeshift menu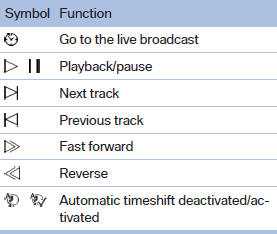 Automatic timeshift
When the function is activated, audio playback is stopped automatically in the event of:
▷ Incoming and outgoing telephone calls.
▷ Activation of the voice activation system.
▷ Muting.
The audio playback then continues with a time delay.
To activate:
1. "Radio".
2. "Satellite radio".
3.

"Replay - Time shift".
4.

"Automatic time shift".
To deactivate:

"Automatic time shift".
See also:
Rain sensor
If the car is equipped with a rain sensor, the time between wipes is controlled automatically and depends on the intensity of the rainfall. The rain sensor is mounted on the windshield, directl ...
Car washes
Notes Steam jets or high-pressure washers When using steam jets or high-pressure washers, hold them a sufficient distance away and use a maximum temperature of 140 F/ 60 C. Holding them too ...
Headlamp glass
Condensation can form on the inside of the external lamps in cool or humid weather. When the light is switched on, the condensation evaporates after a short time. The headlamp glasses do not n ...