Selecting channels
You can only listen to enabled channels.
The selected channel is stored for the remote control currently in use.
Via iDrive
1. "Radio".
2. "Satellite radio".
3. Select "All channels" or the desired category.
4. Select the desired channel.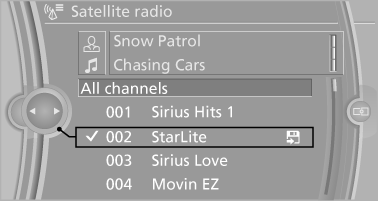 Via the buttons on the center console

Press the button.
The next channel is selected.
Via direct channel entry
1. "Radio".
2. "Satellite radio".
3.

"Set channel".
4. Turn the controller until the desired channel is reached and press the controller.
See also:
Signal tones
When approaching an object, an intermittent tone is sounded that indicates the position of the object. For example, if an object is detected to the left rear of the vehicle, a signal tone sounds ...
Navigation data
Information on the navigation data 1. "Navigation" 2. "Options" Open. 3. "Navigation system version": information on the data version is displayed. Updating the nav ...
Opening the favorites
If an activated favorite is being played, the message "Favorite alert!" appears for approx. 20 seconds. Select "Favorites" while the alert message is being displayed. The ...