At a glance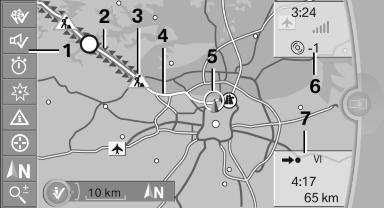 1 Function bar
2 Route section with traffic obstruction
3 Traffic sign for traffic obstruction
4 Planned route
5 Current location
6 Upper status field
7 Lower status field
Lines in the map
Streets and routes are displayed in different colors and styles depending on their classification.
Dashed lines represent railways and ferry connections.
Country borders are indicated by thin lines.
Traffic obstructions
Small triangles along the planned route indicate route sections with traffic obstructions, depending on the map scale. The direction of the triangles indicates the direction of the obstruction.
The traffic signs indicate the significance of the obstruction.
▷ Red traffic sign: the obstruction affects the planned route or direction.
▷ Gray traffic sign: the obstruction does not affect the planned route or direction.
Traffic bulletins.
Planned route
After destination guidance is started, the planned route is displayed on the map.
Status fields
Show/hide: press the controller.
▷ Upper status field: time, telephone, and entertainment details.
▷ Lower status field: symbol for active destination guidance, status of traffic bulletins, time of arrival, and distance to destination.
Function bar
The following functions are available in the function bar: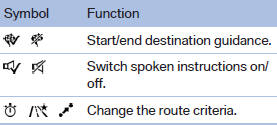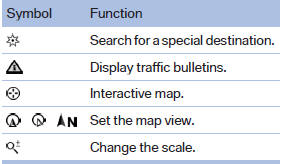 To change to the function bar, move the controller to the left.
See also:
Connecting a particular mobile phone
If more than one mobile phone is detected by the vehicle, the mobile phone at the top of the list is connected. If a different detected cell phone is connected with the vehicle. A different mobile ...
Mounting LATCH child restraint fixing systems
1. Mount the child restraint fixing system; refer to the operating instructions of the system. 2. Ensure that both LATCH anchors are properly connected. ...
Drive away without delay
Do not wait for the engine to warm up while the vehicle remains stationary. Start driving right away, but at moderate engine speeds. This is the fastest way for the cold engine to reach its ope ...