Roof-mounted luggage rack
Note
Roof racks are available as special accessories.
Attachment
Follow the installation instructions of the roof rack.
Roof drip rail with flaps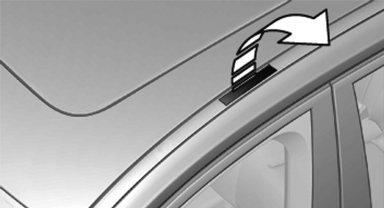 The anchorage points are located in the roof drip rail above the doors.
Fold the cover outward.
Loading
Because roof racks raise the vehicle's center of gravity when loaded, they have a major effect on vehicle handling and steering response.
Therefore, note the following when loading and driving:
▷ Do not exceed the approved roof/axle loads and the approved gross vehicle weight.
▷ Distribute the roof load uniformly.
▷ The roof load should not be too large in area.
▷ Always place the heaviest pieces on the bottom.
▷ Secure the roof luggage firmly, e.g., tie with ratchet straps.
▷ Drive smoothly. Avoid sudden acceleration and braking maneuvers. Take corners gently.
See also:
Activating HDC
Press the button; the LED above the button lights up. ...
Strength of the driver's and front passenger airbag
The strength with which the driver's and front passenger airbags are triggered depends on the position of the driver's and front passenger seats. To maintain the accuracy of this function over ...
Entering a house number separately
Depending on the data in the navigation system, house numbers up to number 2,000 can be entered. 1. ›House number‹ 2. Say the house number. Say each digit separately. 3. Continue making the entr ...