Engaging the transmission position
▷ Transmission position P can only be disengaged if the engine is running and the brake pedal is pressed.
▷ With the vehicle stationary, press on the brake pedal before shifting out of P or N; otherwise, the shift command will not be executed: shift lock.

Depress the brake until you start driving
To prevent the vehicle from creeping after you select a driving position, maintain pressure on the brake pedal until you are ready to start.
Engaging D, R and N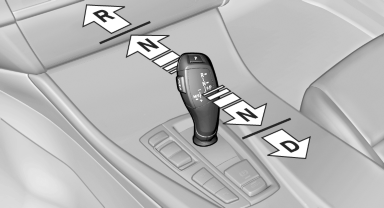 Engaging D, R and N
Briefly push the selector lever in the desired direction, beyond a resistance point if necessary.
After releasing the selector lever, it returns to its center position.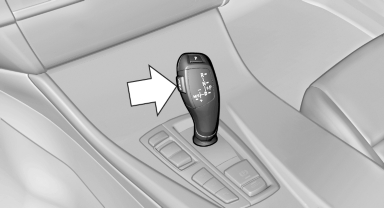 Press unlock button, in order to:
▷ Engage R.
▷ Shift out of P.
Engaging P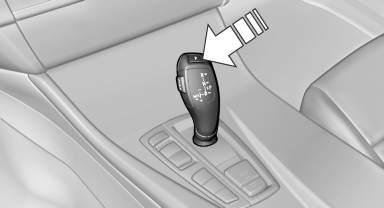 Engaging P
Press button P.
See also:
Mounting
Information on mounting tires Have mounting and balancing performed only by a service center or tire specialist. If this work is not carried out properly, there is the danger of subsequent dam ...
Changing between panels
After a menu item is selected, e.g., "Radio", a new panel is displayed. Panels can overlap. ▷ Move the controller to the left. The current panel is closed and the previous panel ...
Following the initial pairing
▷ The mobile phone is detected/connected in the vehicle within a short period of time when the engine is running or the ignition is switched on. ▷ The phone book entries of the tele ...