Engaging the transmission position
▷ Transmission position P can only be disengaged if the engine is running and the brake pedal is pressed.
▷ With the vehicle stationary, press on the brake pedal before shifting out of P or N; otherwise, the shift command will not be executed: shift lock.

Depress the brake until you start driving
To prevent the vehicle from creeping after you select a driving position, maintain pressure on the brake pedal until you are ready to start.
Engaging D, R and N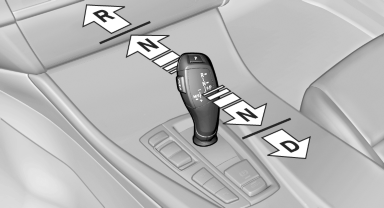 Engaging D, R and N
Briefly push the selector lever in the desired direction, beyond a resistance point if necessary.
After releasing the selector lever, it returns to its center position.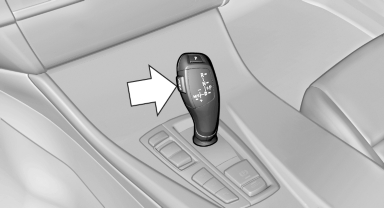 Press unlock button, in order to:
▷ Engage R.
▷ Shift out of P.
Engaging P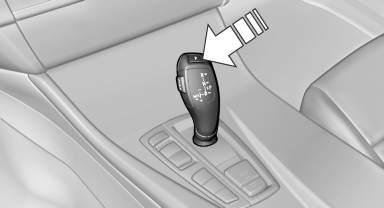 Engaging P
Press button P.
See also:
Storage compartments inside the cargo area
Depending on your vehicle's equipment, the left side trim panel of the luggage compartment will contain a rubber strapfor securing small objects such as a folding umbrella. The lashing eyes i ...
Wiper blade replacement
Do not fold down the wipers without wiper blades Do not fold down the wipers if wiper blades have not been installed; this may damage the windshield.◀ ...
Label
Run-flat tires RSC label on the tire sidewall. The wheels are composed of special rims and tires that are self-supporting, to a limited degree. The support of the sidewall allows the tire to re ...