Rear doors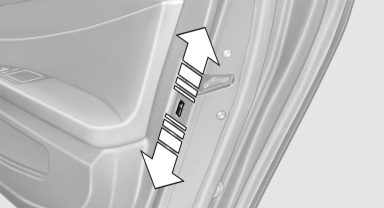 Rear doors
Push the locking lever on the rear doors down.
The door can now be opened from the outside only.
See also:
Exterior & Styling
The 2011 5 Series is further proof that BMW is pulling itself out of an awkward design era. Recently, the only element that had seemed to tie one model to another was an ill-conceived — and poorly ...
Self-leveling headlights
The self-leveling headlights feature adapts the light distribution to the contours of the road. The light distribution is lowered on hilltops to avoid blinding oncoming traffic and tilted in depr ...
Residual heat
The heat stored in the engine is used to heat the interior. Functional requirement ▷ Up to 15 minutes after the engine has been switched off. ▷ Warm engine. ▷ The battery is ...