Redialing
General information
The list of dialed numbers in the mobile phone is transmitted to the vehicle depending on the mobile phone. Possibly only those numbers are displayed that were dialed from the vehicle.
The 20 phone numbers dialed last are displayed.
The sorting order of the phone numbers depends on the particular mobile phone.
Dialing the number via the iDrive
1. "Telephone"
2. "Redial"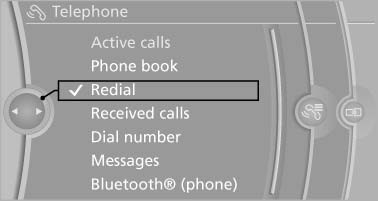 Dialing the number via the iDrive
3. Select the desired entry and the phone number if necessary.
The connection is established.
Saving an entry in the contacts
1. Highlight the entry.
2. Open "Options".
3. "Store as new contact" or "Add to existing contact"
4. Select "New phone number" or contact.
5. Select t

he type of number: "Home", "Business", "Mobile", or "Other" 6. Complete the entries if necessary.
7. If necessary, "Store contact in vehicle".
See also:
At a glance
The destinations previously entered are stored automatically. These destinations can be called up and used as a destination for destination guidance. ...
Controls
This chapter is intended to provide you with information that will give you complete control of your vehicle. All features and accessories that are useful for driving and your safety, comfort and ...
System limits
Sudden tire damage Sudden serious tire damage caused by external influences cannot be indicated in advance.◀ A natural, even pressure loss in all four tires cannot be detected. Therefore, ...