Opening the favorites
If an activated favorite is played back, the following message appears for approx. 20 seconds "Favorite alert!".

"Favorites"
Select the symbol while the message is shown.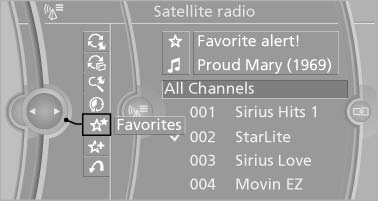 Favorites
The displayed favorite is played.
If there is no message, the system changes to the My Favorites category. All favorites currently being broadcast can be selected from a list.
See also:
Malfunction
HDC is temporarily unavailable in the following situations due to a high brake temperature: ▷ The LED in the button and the display HDC go out during HDC operation. ▷ The LED in the ...
Display on the Control Display
Display the computer or trip computer on the Control Display. 1. "Vehicle Info" 2. "Onboard info" or "Trip computer" Resetting the fuel consumption or speed 1. &q ...
Calling up the desired speed and distance
While driving Press the button with the system switched on. In the following cases, the stored speed value is deleted and cannot be called up again: ▷ When the system is switched off. & ...