Opening the favorites
If an activated favorite is played back, the following message appears for approx. 20 seconds "Favorite alert!".

"Favorites"
Select the symbol while the message is shown.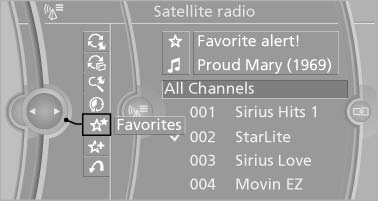 Favorites
The displayed favorite is played.
If there is no message, the system changes to the My Favorites category. All favorites currently being broadcast can be selected from a list.
See also:
Dynamic Driving Control
The concept Dynamic Driving Control can be used to adjust the driving dynamics of the vehicle. Several programs are available for this purpose; they can be activated using the two Dynamic Drivi ...
The concept
The concept Two radar sensors below the rear bumper monitor the area behind and next to the vehicle at speeds above approx. 30 mph/50 km/h. The system indicates whether there are vehicles ...
FTM Flat Tire Monitor
The concept The system does not measure the actual inflation pressure in the tires. It detects a pressure loss in a tire by comparing the rotational speeds of the individual wheels while moving ...