Opening the favorites
If an activated favorite is played back, the following message appears for approx. 20 seconds "Favorite alert!".

"Favorites"
Select the symbol while the message is shown.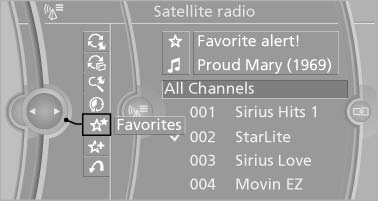 Favorites
The displayed favorite is played.
If there is no message, the system changes to the My Favorites category. All favorites currently being broadcast can be selected from a list.
See also:
All around the steering wheel
1 Seating comfort functions* Gentleman function* Seat, mirror, steering wheel memory* Active seat* 2 Roller sunblind* for rear window 3 Safety switch for the windows and the roller sun b ...
Avoid high engine speeds
Use 1st gear to get the vehicle in motion. Beginning with 2nd gear, accelerate rapidly. When accelerating, shift up before reaching high engine speeds. When you reach the desired speed, shift i ...
Operating Apps
1. Connect the cell phone via the snap-in adapter or via the USB audio interface. 2. "ConnectedDrive" 3. Select the desired software application. ...