Opening the favorites
If an activated favorite is played back, the following message appears for approx. 20 seconds "Favorite alert!".

"Favorites"
Select the symbol while the message is shown.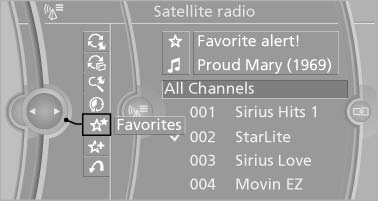 Favorites
The displayed favorite is played.
If there is no message, the system changes to the My Favorites category. All favorites currently being broadcast can be selected from a list.
See also:
General information
Contacts, appointments, tasks, notes, text messages, and e-mails from the mobile phone can be displayed on the Control Display if the mobile phone provides compatible support of these function ...
The concept
The vehicle can be accessed without activating the remote control. All you need to do is to have the remote control with you, e.g., in your jacket pocket. The vehicle automatically detects the r ...
Calls with multiple participants
General information You can switch between calls or connect two calls to a single conference call. These functions must be supported by the mobile phone and service provider. Accepting a call ...