Date
Setting the date
1. "Settings"
2. "Time/Date"
3. "Date:"
4. Turn the controller until the desired day is displayed.
5. Press the controller.
6. Make the necessary settings for the month and year.
The date is stored.
Setting the date format
1. "Settings"
2. "Time/Date"
3. "Format:"
4. Select the desired format.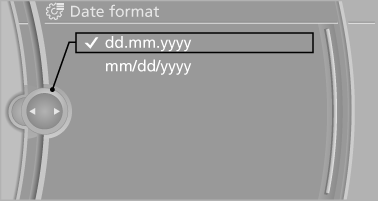 The date format is stored.
See also:
Bypassing a section of the route
Calculate a new route for a route section. 1. "Navigation" 2. "Route information" 3. "New route for" New route for 4. Turn the controller. Enter the number of kilo ...
Determining the load limit
Determining the load limit 1. Locate the following statement on your vehicle's placard: ▷ The combined weight of occupants and cargo should never exceed XXX kg or YYY lbs. Otherwise, d ...
Under the Hood
Both engines incorporate direct fuel injection and turbocharging. The xDrive35i uses a new 3.0-liter inline-six-cylinder with one turbocharger, while the xDrive50i uses a 4.4-liter V-8 with two. P ...