At a glance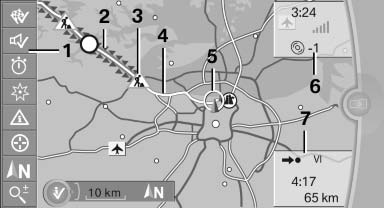 At a glance
1 Function bar
2 Route section with traffic obstruction
3 Traffic sign for traffic obstruction
4 Planned route
5 Current location
6 Upper status field
7 Lower status field
Lines in the map
Streets and routes are displayed in different colors and styles depending on their classification.
Dashed lines represent railways and ferry connections.
Country borders are indicated by thin lines.
Traffic obstructions
Small triangles along the planned route indicate route sections with traffic obstructions, depending on the map scale. The direction of the triangles indicates the direction of the obstruction.
The traffic signs indicate the significance of the obstruction.
▷ Red traffic sign: the obstruction affects the planned route or direction.
▷ Grey traffic sign: the obstruction does not affect the planned route or direction.
Traffic bulletins
Planned route
After destination guidance is started, the planned route is displayed on the map.
Status fields
Show/hide: press the controller.
▷ Upper status field: time, telephone, and entertainment details.
▷ Lower status field: symbol for active destination guidance, status of traffic bulletins, time of arrival, and distance to destination.
Function bar
The following functions are available in the function bar: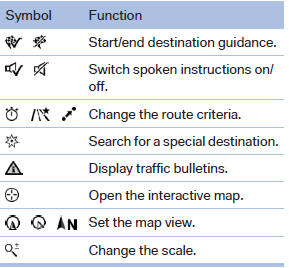 To change to the function bar, move the controller to the left.
See also:
Around the steering wheel: controls and displays
1. Convertible: opening and closing windows jointly 2. Convertible: opening and closing rear windows 3.Opening and closing front windows 4.Folding exterior mirrors in and out 5.Adjusting exter ...
Headlamps
▷ Do not rub dry and do not use abrasive or caustic cleansers. ▷ Soak areas that have been soiled e.g. due to insects, with shampoo and wash off with water. ▷ Thaw ice with d ...
SENSE AND STYLE
Family Friendly (Not Really, Fair, Great, Excellent): Great Fun-Factor (None, Some, Good Times, Groove-On): Good Times ...