Radar sensor
Position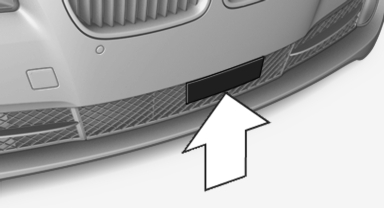 Radar sensor
Dirty or covered sensor
A dirty or covered sensor may hinder the detection of vehicles.
▷ If necessary, clean the radar sensor. Remove layers of snow and ice carefully.
▷ Do not cover the view field of the radar sensor.
Malfunction
The system cannot be activated if the sensor is not aligned correctly. This may be caused by damage incurred during parking, for example.
A Check Control message is displayed if the system fails.
For US owners only
The transmitter and receiver units comply with part 15 of the FCC/Federal Communication Commission regulations. Operation is governed by the following:
FCC ID:
▷ OAYARS3-A Compliance statement:
This device complies with part 15 of the FCC Rules. Operation is subject to the following two conditions:
▷ This device may not cause harmful interference, and
▷ this device must accept any interference received, including interference that may cause undesired operation.
Any unauthorized modifications or changes to these devices could void the user's authority to operate this equipment.
Note
To reduce electromagnetic effects, please use properly.
The standard SAR value is 2.0 W/kg; the tested value of this product is 0.751 W/kg.
NCC declaration:
1. Companies or persons without authorization should not change the frequency, increase the power, or change the characteristics or functions of the original design of low-power radio frequency devices with type approval.
2. Low-power radio frequency devices should not impair legal communication or flight safety. If this type of impairment is detected, the device should be switched off immediately.
In this case, please contact the manufacturer and only use the product after the problem has been corrected.
3. The "legal communication" specified above refers to communication in accordance with telecommunication regulations. Low-power devices should withstand interference from legal communication and ISM devices.
See also:
Tail lamps, bulb replacement
At a glance 1 Turn signal 2 Backup lamp 3 Inside brake lamp* 4 Tail lamp 5 Outside brake lamp 6 Rear reflector* Turn signal, brake, tail, and license plate lamps Follow the general instruc ...
Disposing of old batteries
Have old batteries disposed of by your service center or bring them to a recycling center. Maintain the battery in an upright position for transport and storage. Secure the battery so that ...
Status display
The tire and system status is indicated by the color of the tires. A change in the tire inflation pressure during driving is taken into account. A correction is only necessary if this is indicat ...