Updating the navigation data
General information
Navigation data are stored in the vehicle and can be updated.
Navigation data and authorization codes are available from your service center.
▷ Depending on the data volume, a data update may take several hours.
▷ Update during the trip to preserve battery..
▷ During the update, only the basic functions of the navigation system are available..
▷ The status of the update can be viewed..
▷ The system restarts after the update..
▷ The data carrier with the navigation data can be removed after the update is complete.
Performing an update
1. Insert the navigation DVD into the DVD player with the labeled side facing up.
2. Follow the instructions on the Control Display.
3. Enter the authorization code of the navigation DVD and change the DVD if needed.
If the trip is interrupted, follow the instructions on the Control Display and restart the update if necessary.
Viewing the status
1. Open "Options".
2. "Navigation update"
Removing navigation DVD
1.

Press button 1.
The DVD emerges slightly from the drive.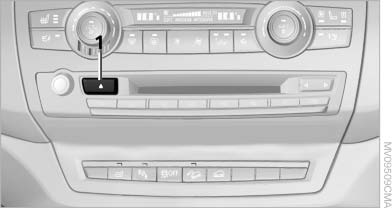 The DVD emerges slightly from the drive
2. Remove the DVD.
See also:
Closing the hood
Closing the hood Drop the hood from a height of approx. 16 in/ 40 cm. It must be clearly heard to engage. Hood open when driving If you see any signs that the hood is not completely closed ...
General information
Lamps and bulbs make an essential contribution to vehicle safety. The manufacturer of the vehicle recommends that you entrust corresponding procedures to the service center if you are unfamilia ...
Surround View
The concept Surround View includes the following systems: Backup camera. Side View. Top View. It assists the driver when parking, maneuvering and on blind driveways and intersections. ...