Updating the navigation data
General information
Navigation data are stored in the vehicle and can be updated.
Navigation data and authorization codes are available from your service center.
▷ Depending on the data volume, a data update may take several hours.
▷ Update during the trip to preserve battery..
▷ During the update, only the basic functions of the navigation system are available..
▷ The status of the update can be viewed..
▷ The system restarts after the update..
▷ The data carrier with the navigation data can be removed after the update is complete.
Performing an update
1. Insert the navigation DVD into the DVD player with the labeled side facing up.
2. Follow the instructions on the Control Display.
3. Enter the authorization code of the navigation DVD and change the DVD if needed.
If the trip is interrupted, follow the instructions on the Control Display and restart the update if necessary.
Viewing the status
1. Open "Options".
2. "Navigation update"
Removing navigation DVD
1.

Press button 1.
The DVD emerges slightly from the drive.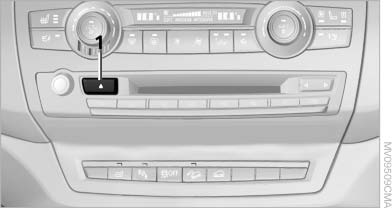 The DVD emerges slightly from the drive
2. Remove the DVD.
See also:
Storing a station
1. "Radio". 2. "FM" or "AM". 3. Highlight the desired station. 4. Press the controller for an extended period. 5. Select the desired memory location. The stations ...
Special windshield
The windshield is part of the system. The shape of the windshield makes it possible to display a precise image. A film in the windshield prevents double images from being displayed. Therefore, ...
Preparing and loading the ski bag
1. Fold open the center arm rest and the lid on the inside. 2. Open the inside cover and cargo area by pressing the button. 3. Lay out the ski bag. 4. Load the ski bag. If necessary, wrap the ...