Displays in instrument cluster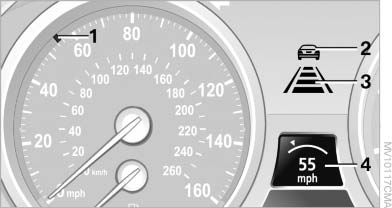 Displays in instrument cluster
1 Stored desired speed ▷ Green: the system is active.
▷ Orange: the system is interrupted.
2 Lights up yellow: vehicle detected ahead Display also used for warnings, please read all information on warnings.
3 Selected distance to vehicle ahead The indicator lights up as soon as the system is activated.
The indicator lights up as soon as the system is activated.
The bars roll: the vehicle in front of you has driven off.
4 Brief display of stored desired speed If the display --- mph/---km/h appears briefly, the conditions necessary for operation may currently not be met.
Warning lamps
Display 2 flashes red and a signal sounds.
The system requests that the you intervene by braking and carrying out evasive maneuvers, if necessary.
The system cannot independently restore the distance to the vehicle ahead.
This display does not relieve the driver of the responsibility to adapt his or her desired driving speed and style to the traffic conditions.

Display 2 flashes yellow.
The conditions necessary for operation of the system are no longer met, e.g., due to ABS or DSC intervention. The system applies the brakes until you actively assume control.
See also:
COMFORT
For a balanced tuning with maximum driving stabilization. Activating COMFORT Press the button repeatedly until the program display in the tachometer goes out. In certain situations, the syst ...
Adaptive brake assistant
In combination with the Active Cruise Control, this system ensures that the brakes respond even more rapidly when braking in critical situations. Refer also to Collision warning. ...
Setting the voice dialog
You can set whether the system should use the standard dialog or a shorter version. In the shorter variant of the voice dialog, the announcements from the system are issued in an abbreviated fo ...