Fog lamps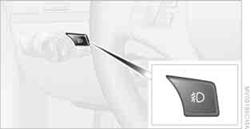 To switch on/off, press the button.

The parking lamps or low beams must be switched on for the fog lamps to operate. The green indicator lamp in the instrument cluster lights up whenever the fog lamps are on.
The fog lamps are switched off while you activate the headlamp flasher or switch on the high beams.

If the automatic headlamp control is activated, the low beams will come on automatically when you switch on the fog lamps.
See also:
Traffic Jump
Traffic and weather information for a selected region is broadcast every few minutes. Selecting a region 1. "Radio". 2. "Satellite radio". 3. "Options" Open. 4. &q ...
Brake Force Display
On the left: normal braking. On the right: sharp braking. When the rear fog lampsare switched on, the Brake Force Display is not active and the illuminated area for normal braking is reduced by a ...
Storing a trip
Up to 30 trips can be stored in the trip list. If necessary, delete existing trips to be able to store new trips. 1. Open "Options". 2. "Store trip" 3. Enter a name for the ...