Washer/wiper system

Do not switch on the wipers if frozen<> Do not switch on the wipers if they are frozen onto the windshield; otherwise, the wiper blades and the windshield wiper motor may be damaged.◀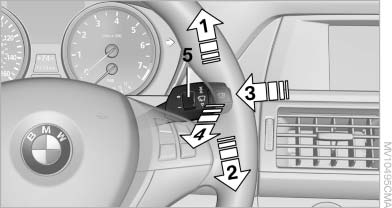 Washer/wiper system
1. Switching on wipers
2. Switching off wipers or brief wipe
3. Activating/deactivating the rain sensor
4. Cleaning the windshield and headlamps
5. Setting the sensitivity of the rain sensor
See also:
Exterior mirrors
At a glance 1 Adjusting 2 Left/right, Automatic Curb Monitor 3 Fold in and out General information The mirror on the passenger side is more curved than the driver's side mirror. Estimating d ...
Use high-quality brands
Field experience has indicated significant differences in fuel quality: volatility, composition, additives, etc., among gasolines offered for sale in the United States and Canada. Fuels containi ...
Defrosting and defogging windows
Press the button. Ice and condensation are quickly removed from the windshield and the front side windows. For this purpose, also switch on the cooling function. ...