Fuses

Never attempt to repair a blown fuse and do not replace a defective fuse with a substitute of another color or amperage rating; otherwise, this could lead to a circuit overload, ultimately resulting in a fire in the vehicle.
In the glove compartment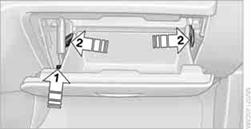 Accessing the fuse box:
1. Open the glove compartment.
2. Remove the damper, arrow 1, from the lower holder by applying forward pressure.
3. Disengage the glove compartment by pressing on both tabs, arrows 2, and fold it down.
Plastic tweezers are located on the distributor box.
Information on fuse assignment can be found next to the distributor box.
Spare fuses are available from your BMW center.
After replacing a fuse, press the glove compartment upward until it engages and reattach the damper.
See also:
Parts and accessories
For your own safety, use genuine parts and accessories approved by BMW. When you purchase accessories tested and approved by BMW and Genuine BMW Parts, you simultaneously acquire the assurance ...
Switching on/off
Press the button. ...
Manual transmission
Shifting Shifting into 5th or 6th gear When shifting into 5th or 6th gear, push the gearshift lever to the right; otherwise inadvertent shifting into the 3rd or 4th gear could lead to engine ...