Fuses

Never attempt to repair a blown fuse and do not replace a defective fuse with a substitute of another color or amperage rating; otherwise, this could lead to a circuit overload, ultimately resulting in a fire in the vehicle.
In the glove compartment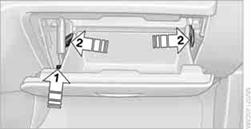 Accessing the fuse box:
1. Open the glove compartment.
2. Remove the damper, arrow 1, from the lower holder by applying forward pressure.
3. Disengage the glove compartment by pressing on both tabs, arrows 2, and fold it down.
Plastic tweezers are located on the distributor box.
Information on fuse assignment can be found next to the distributor box.
Spare fuses are available from your BMW center.
After replacing a fuse, press the glove compartment upward until it engages and reattach the damper.
See also:
Parking assistant
The concept This system assists the driver in parking parallel to the road. Ultrasound sensors measure parking spaces on both sides of the vehicle. The parking assistant calculates the best p ...
DTMF suffix dialing
DTMF suffix dialing can be used for gaining access to network services or for controlling devices, e.g., to make a remote inquiry of an answering machine. The DTMF code is needed for this purp ...
Indicator/warning lamps
The indicator and warning lamps can light up in a variety of combinations and colors. Several of the lamps are checked for proper functioning and light up temporarily when the engine is start ...