BMW Online
At a glance
You can use BMW Online to search the yellow pages.
License conditions:
This product contains NetFront Browser software of ACCESS Co., Ltd. Copyright © 2007
ACCESS Co., Ltd. All rights reserved.
NetFront is a trademark or registered trademark of ACCESS Co., Ltd., in Japan and other countries.
This software is based in part on the work of the Independent JPEG Group.
Requirements
> Subscription to the optional Convenience Plan.
> The vehicle is located within wireless network coverage.
> The date setting on the Control Display is current.
Starting BMW Online
1. "BMW Assist" or "ConnectedDrive"
2. "BMW Online"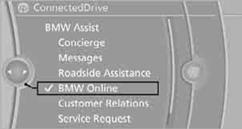 3. "OK" if necessary
The BMW Online start page is displayed.
Using BMW Online
To select and display content:
> Turn the controller to highlight an element.
> Press the controller to display an element.
Opening the start page
1. Open "Options".
2. "Display start page"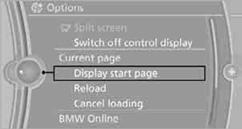 Loading a new page
1. Open "Options".
2. "Reload"
Canceling
1. Open "Options".
2. "Cancel loading"
See also:
Managing the favorites
Activating/deactivating the favorites Favorites can be activated and deactivated globally and individually. 1. "Satellite radio" 2. "Manage favorites" 3. Select "Activ ...
Camera
Rain, dirt, snow, or ice can impair camera operation. The camera is automatically heated when the external temperatures are low. The camera is automatically cleaned together with the headlamps ...
Controls
At a glance 1 System on/off, interrupt 2 Resume speed 3 Store speed 4 Store, maintain/change speed Switching on Press the button on the steering wheel. The marking in the speedometer is ...