BMW Online
At a glance
You can use BMW Online to search the yellow pages.
License conditions:
This product contains NetFront Browser software of ACCESS Co., Ltd. Copyright © 2007
ACCESS Co., Ltd. All rights reserved.
NetFront is a trademark or registered trademark of ACCESS Co., Ltd., in Japan and other countries.
This software is based in part on the work of the Independent JPEG Group.
Requirements
> Subscription to the optional Convenience Plan.
> The vehicle is located within wireless network coverage.
> The date setting on the Control Display is current.
Starting BMW Online
1. "BMW Assist" or "ConnectedDrive"
2. "BMW Online"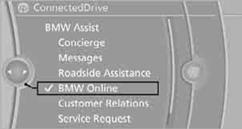 3. "OK" if necessary
The BMW Online start page is displayed.
Using BMW Online
To select and display content:
> Turn the controller to highlight an element.
> Press the controller to display an element.
Opening the start page
1. Open "Options".
2. "Display start page"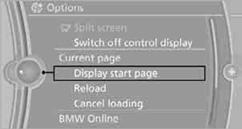 Loading a new page
1. Open "Options".
2. "Reload"
Canceling
1. Open "Options".
2. "Cancel loading"
See also:
Configuring cell phone
Additional functions can be activated or deactivated for paired and connected mobile phones. 1. "Telephone" 2. "Bluetooth® (phone)" 3. Highlight the mobile phone to be config ...
AUTO program
Press the button. Air volume, air distribution, and temperature are controlled automatically: Depending on the selected temperature, AUTO intensity, and outside influences, the air is directed ...
Notes
If the battery is discharged, an engine can be started using the battery of another vehicle and two jumper cables. Only use jumper cables with fully insulated clamp handles. To prevent personal ...