My contacts
General information
List of all contacts from the vehicle.
Displaying contacts
1. "Contacts"
2. "My contacts"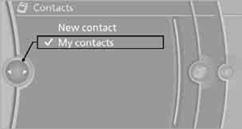 All contacts are listed in alphabetical order. Depending on the number of contacts, an A-Z search is offered.
A symbol indicates the storage location of the contacts:
Editing a contact
1. Select the desired contact.
2. "Edit contact"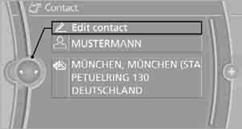 3. Change the entries.
4. Move the controller to the left.
5. "Yes"
Selecting a contact as a destination
1. Select the desired contact.
2. Select address.
3. "Start guidance" or "Add as another destination"
Checking the address as a destination
An address that is to be used in route guidance must correspond to the navigation data stored in the vehicle. The address can be checked to ensure this.
1. Select the desired contact and highlight the address.
2. Open "Options".
3. "Check as destination"
4. Correct and store the address, if necessary.
Selecting name sorting
Names can be displayed in different orders.
1. "My contacts"
2. Open "Options".
3. "Display: last, first name" or "Display: first, last name"
Exporting/importing contacts
Contacts can be exported and imported using
Personal Profile.
Deleting contacts
1. "My contacts"
2. Highlight the contact.
3. Open "Options".
4. "Delete contact" or "Delete all contacts".
See also:
Car washes
Notes Steam jets or high-pressure washers When using steam jets or high-pressure washers, hold them a sufficient distance away and use a maximum temperature of 140 F/ 60 C. Holding them too ...
Functional requirements
The system must have been initialized when the tire inflation pressure was correct; otherwise, reliable signaling of a flat tire is not ensured. Initialize the system after each correction of th ...
Snap-in adapter
The snap-in adapter is used to: ▷ Hold the mobile phone. ▷ Recharge the battery. ▷ Connect the mobile phone to an outside antenna of the vehicle. This provides for better netwo ...