My contacts
General information
List of all contacts from the vehicle.
Displaying contacts
1. "Contacts"
2. "My contacts"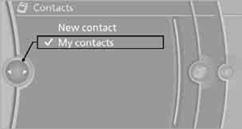 All contacts are listed in alphabetical order. Depending on the number of contacts, an A-Z search is offered.
A symbol indicates the storage location of the contacts:
Editing a contact
1. Select the desired contact.
2. "Edit contact"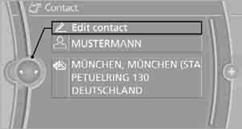 3. Change the entries.
4. Move the controller to the left.
5. "Yes"
Selecting a contact as a destination
1. Select the desired contact.
2. Select address.
3. "Start guidance" or "Add as another destination"
Checking the address as a destination
An address that is to be used in route guidance must correspond to the navigation data stored in the vehicle. The address can be checked to ensure this.
1. Select the desired contact and highlight the address.
2. Open "Options".
3. "Check as destination"
4. Correct and store the address, if necessary.
Selecting name sorting
Names can be displayed in different orders.
1. "My contacts"
2. Open "Options".
3. "Display: last, first name" or "Display: first, last name"
Exporting/importing contacts
Contacts can be exported and imported using
Personal Profile.
Deleting contacts
1. "My contacts"
2. Highlight the contact.
3. Open "Options".
4. "Delete contact" or "Delete all contacts".
See also:
System limits
Check the traffic situation as well PDC cannot serve as a substitute for the driver's personal judgment of the traffic situation. Check the traffic situation around the vehicle with your own e ...
Incoming call
Receiving calls If the number of the caller is stored in the phone book and is transmitted by the network, the name of the contact is displayed. Otherwise, only the phone number is displayed. ...
Tachometer
Always avoid engine speeds in the red warning field. In this range, the fuel supply is interrupted to protect the engine. ...