My contacts
General information
List of all contacts from the vehicle.
Displaying contacts
1. "Contacts"
2. "My contacts"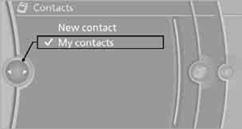 All contacts are listed in alphabetical order. Depending on the number of contacts, an A-Z search is offered.
A symbol indicates the storage location of the contacts:
Editing a contact
1. Select the desired contact.
2. "Edit contact"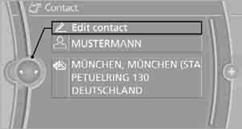 3. Change the entries.
4. Move the controller to the left.
5. "Yes"
Selecting a contact as a destination
1. Select the desired contact.
2. Select address.
3. "Start guidance" or "Add as another destination"
Checking the address as a destination
An address that is to be used in route guidance must correspond to the navigation data stored in the vehicle. The address can be checked to ensure this.
1. Select the desired contact and highlight the address.
2. Open "Options".
3. "Check as destination"
4. Correct and store the address, if necessary.
Selecting name sorting
Names can be displayed in different orders.
1. "My contacts"
2. Open "Options".
3. "Display: last, first name" or "Display: first, last name"
Exporting/importing contacts
Contacts can be exported and imported using
Personal Profile.
Deleting contacts
1. "My contacts"
2. Highlight the contact.
3. Open "Options".
4. "Delete contact" or "Delete all contacts".
See also:
Ventilation in rear, center
▷ Thumbwheels for adjusting the temperature, arrows 1. Toward blue: colder. Toward red: warmer. ▷ Lever for changing the air flow direction, arrow 2. ▷ Thumbwheels for open ...
Switching on/off directly
1. "Settings" 2. "Climate" 3. "Activate parked-car vent." The symbol on the automatic climate control flashes if the system is switched on. ...
Drivetrains
The 528i, 535i and 550i are rated at 240, 300 and 400 horsepower, respectively. The turbocharged version of the 3.0-liter inline-six-cylinder in the 535i makes the 550i superfluous, rocketing the ...