Notes
Displaying notes
1. "Office"
2. "Notes"
All notes are displayed.
Displaying a note
1. Select the desired note.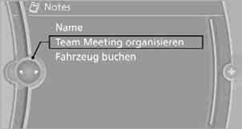 2. To scroll through the note, if necessary:
> Turn the controller.
> Select the


symbol.
Using contact data
Contact data from appointments, tasks, text messages, emails, and notes can be stored or selected.
Reading a note aloud
Reading a note aloud.
See also:
General information
Overloading the vehicle To avoid exceeding the approved carrying capacity of the tires, never overload the vehicle. Overloading can lead to overheating and increases the rate at which damage de ...
Calls with multiple parties
General information You can switch between calls or connect two calls to a single conference call. These functions must be supported by the mobile phone and service provider. Accepting a call ...
The concept
DSC prevents traction loss in the driving wheels when driving away and accelerating. DSC also recognizes unstable vehicle conditions, such as fishtailing or nose-diving. Subject to physical lim ...