External devices
Overview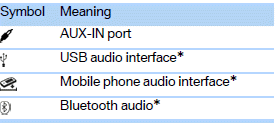 AUX-IN port
Overview
> It is possible to connect audio devices, e.g. MP3 players. Sound is output over the vehicle speakers.
> Recommended settings: mid-level tone and volume settings on the audio device. Tone may depend on the quality of the audio files.
Connecting
Lift up the center armrest.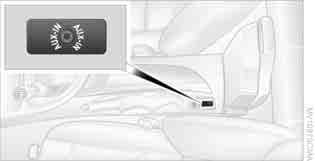 Connection for audio playback:
TRS connector 1/8 in/3.5 mm.
The AUX-In connection is in the center armrest.
Connect the headphone connection or line-out connection of the device to the jack plug.
Playback
1. Connect the audio device, switch it on, and using the audio device, select a track.
2. "CD/Multimedia"
3. "External devices" if applicable
4. "AUX front"
Volume
The volume of the sound output depends on the audio device. If this volume differs markedly from the volume of the other audio sources, it is advisable to adjust the volumes.
Adjusting volume
1. "CD/Multimedia"
2. "External devices" if applicable
3.

"AUX front"
4. "Volume"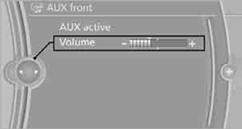 5. Turn the controller until the desired volume is set and then press the controller.
See also:
Customer Relations
At a glance Contact Customer Relations for information on all aspects of your vehicle. ...
Speed limit
Display of a speed limit which, when reached, should cause a warning to be issued. Renewed warning if the vehicle speed drops below the set speed limit once by at least 3 mph/ 5 km/h. Displayi ...
Display in the instrument cluster
The selected speed is displayed in the speedometer. ► Green: the system is actively braking the vehicle. ► Orange: the system is on standby. ...