External devices
Overview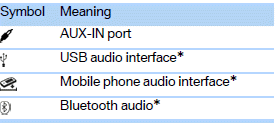 AUX-IN port
Overview
> It is possible to connect audio devices, e.g. MP3 players. Sound is output over the vehicle speakers.
> Recommended settings: mid-level tone and volume settings on the audio device. Tone may depend on the quality of the audio files.
Connecting
Lift up the center armrest.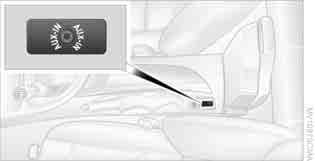 Connection for audio playback:
TRS connector 1/8 in/3.5 mm.
The AUX-In connection is in the center armrest.
Connect the headphone connection or line-out connection of the device to the jack plug.
Playback
1. Connect the audio device, switch it on, and using the audio device, select a track.
2. "CD/Multimedia"
3. "External devices" if applicable
4. "AUX front"
Volume
The volume of the sound output depends on the audio device. If this volume differs markedly from the volume of the other audio sources, it is advisable to adjust the volumes.
Adjusting volume
1. "CD/Multimedia"
2. "External devices" if applicable
3.

"AUX front"
4. "Volume"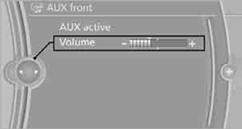 5. Turn the controller until the desired volume is set and then press the controller.
See also:
The concept
DSC prevents traction loss in the driving wheels when driving away and accelerating. DSC also recognizes unstable vehicle conditions, such as fishtailing or nose-diving. Subject to physical lim ...
Vehicle equipment
All standard, country-specific and optional equipment that is offered in the model series is described in this chapter. Therefore, equipment is also described that is not available in a vehicle, e ...
Washer fluid
Washer fluid is flammable. Therefore, keep it away from ignition sources and only store it in the closed original container that is kept out of reach of children; otherwise, there is a risk of pe ...