USB audio interface/audio interface for mobile phone
Overview
It is possible to connect external audio devices. They can be operated via iDrive. Sound is output over the vehicle speakers.
Options for connecting external devices
> Connection via USB audio interface: Apple iPod/iPhone, USB devices, e. g. MP3 player, USB flash drive, or mobile phones that are supported by the USB audio interface.
> Connection via the snap-in adapter, when equipped with extended connectivity of the music player in the mobile phone: Apple iPhone or mobile phones. Playback may only be possible when no device is connected to the AUX-IN port.
Because of the large number of audio devices available on the market, an operation via the vehicle cannot be guaranteed for every audio device/mobile phone.
Ask a BMW center for suitable audio devices/mobile phones.
Audio files
Playback of standard audio files is possible:
> MP3
> WMA
> WAV (PCM)
> AAC, M4A
> Playback lists: M3U, WPL, PLS
Connecting via the USB audio interface
Lift up the center armrest.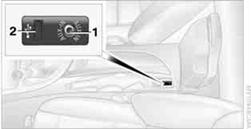 1. AUX-IN port for audio playback: TRS connector 1/8 in/3.5 mm.
2. USB interface
Apple iPod/iPhone
Use a flexible adapter cable for the connection. Connect the Apple iPod/iPhone to the USB interface 2.
The Apple iPod/iPhone menu structure is supported by the USB audio interface.
USB device
To protect the USB interface and USB device from mechanical damage, connect them with a flexible adapter cable.
Connect the USB device to the USB interface 2.
After initial connection
Information about all tracks, e.g. artist or music style and the playlists are imported into the vehicle. It can take some time, depending on the USB device and the number of tracks.
During transmission, the tracks can be called up via the file directory.
Number of tracks
The data from up to four USB devices or for approx. 36,000 tracks can be stored in the vehicle. If a fifth device is connected or if more than 36,000 tracks are stored, then the data of existing tracks may be deleted.
Copy protection
Music tracks with integrated Digital Rights Management (DRM) cannot be played.
Playback
1. "CD/Multimedia"
2. "External devices"
3. Select the

or

symbol.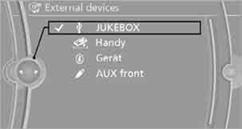 Playback begins with the first track.
After a few seconds, the divided screen mask, split screen, will display the CD cover associated with the track, if so desired.
Track search
Selection is possible via:
> Playback lists.
> Information: music style, artist, album, track.
> Additionally for USB devices: file directory, composer.
Track titles are displayed if they have been stored in the Latin alphabet.
Starting the track search
1. "CD/Multimedia"
2. "External devices"
3. Select the

or

symbol.
4.

"Search"
5. Select desired category, e.g. "Genre", "Artist".
All entries are displayed in a list.
> Open "A-Z search" and enter the desired input. When a character is entered, a filter is applied using this character as the first letter. When several characters are entered, all results are displayed that contain this sequence of characters.
> Select the desired entry from the list.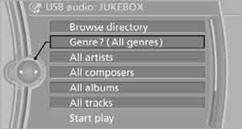 6. Select additional categories if desired.
Not all categories need to be selected. For example, if you wish to display all of the tracks of a particular artist, then only select this artist. All of the tracks by that artist are then displayed.
7. "Start play"
Restarting a track search
"New search"
Playback lists
To open playback lists.
1. "CD/Multimedia"
2. "External devices"
3. Select the

or

symbol.
4.

"Playlists"
Current playback
List of tracks currently being played.
1. "CD/Multimedia"
2. "External devices"
3. Select the

or

symbol.
4.

"Current playback"
Random play sequence
The current list of tracks is played in random sequence.
1. "CD/Multimedia"
2. "External devices"
3. Open "Options".
4. "Random"
Fast forward/reverse
Press and hold the

button.
See also:
Roadside Assistance
Service availability Roadside Assistance can be reached around the clock in many countries. You can obtain assistance there in the event of a vehicle breakdown. Roadside Assistance The Roadside ...
Controls
1 Change the entertainment source 2 CD/DVD drive 3 Eject CD/DVD 4 Change station/track 5 Programmable memory buttons 6 Volume, on/off ...
Opening
Front Front To open the cover, slide it forward Rear BMW X6 BMW X6 Slide the cover back. Emptying Take out the insert. ...