CD changer
The BMW CD changer for six CDs is behind the left side panel in the cargo area.
Removing the CD magazine
To insert or remove CDs from the CD magazine, you must first remove it from the CD changer: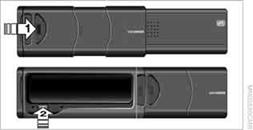 1. Push the cover to one side, arrow 1.
2. Press the button, arrow 2.
The CD magazine will be ejected.
Push the magazine back in after at least 2 seconds have passed so that the inserted CDs can be read in again.
Inserting/removing CDs from the CD magazine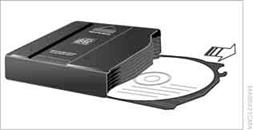 When loading CDs into or removing them from the CD magazine, hold them at their edges and do not touch the reflective signal-sensing area.
Inserting CDs:
Insert one CD per compartment with the labeled side up.
Removing CDs:
Pull out the desired compartment and take out the CD.
Inserting the CD magazine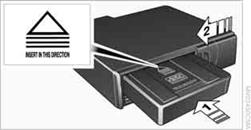 Insert the CD magazine all the way in the direction of arrow 1and close the cover, arrow 2.
The CD changer automatically reads in the loaded CDs and is then ready for operation.
See also:
Socket for OBD Onboard Diagnosis
There is an OBD socket on the driver's side for checking the primary components in the vehicle emissions. Emissions ▷ The warning lamp lights up: Emissions are deteriorating. Have th ...
Integrated key
Press the button on the back of the remote control, arrow 1, and pull out the key, arrow 2. The integrated key fits the following locks: Driver's door. Trunk lid. Storage compartment in t ...
Terminating destination guidance
1. "Navigation" 2. "Map" 3. "Guidance" 4. "Stop guidance" ...