CD changer
The BMW CD changer for six CDs is behind the left side panel in the cargo area.
Removing the CD magazine
To insert or remove CDs from the CD magazine, you must first remove it from the CD changer: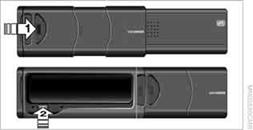 1. Push the cover to one side, arrow 1.
2. Press the button, arrow 2.
The CD magazine will be ejected.
Push the magazine back in after at least 2 seconds have passed so that the inserted CDs can be read in again.
Inserting/removing CDs from the CD magazine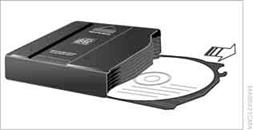 When loading CDs into or removing them from the CD magazine, hold them at their edges and do not touch the reflective signal-sensing area.
Inserting CDs:
Insert one CD per compartment with the labeled side up.
Removing CDs:
Pull out the desired compartment and take out the CD.
Inserting the CD magazine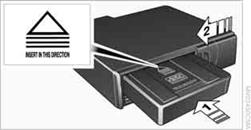 Insert the CD magazine all the way in the direction of arrow 1and close the cover, arrow 2.
The CD changer automatically reads in the loaded CDs and is then ready for operation.
See also:
Operating BMW Online
To start a search: ▷ Turn the controller to highlight an element. ▷ Press the controller to display an element. Opening the start page 1. Open "Options". 2. "Display st ...
2010 BMW X5 M Review
On paper, the BMW X5 M seems about as incongruous as a car can be. It's a five-seat midsize crossover powered by a 555-horsepower, twin-turbocharged V-8 engine that can accelerate from zero to 60 ...
Exterior
If you took BMW's Z4, raised it up and lengthened the rear quarters to add two more doors, you would get something of the X6's profile. The scalloped headlights, twin kidney grilles and stacked ta ...