Climate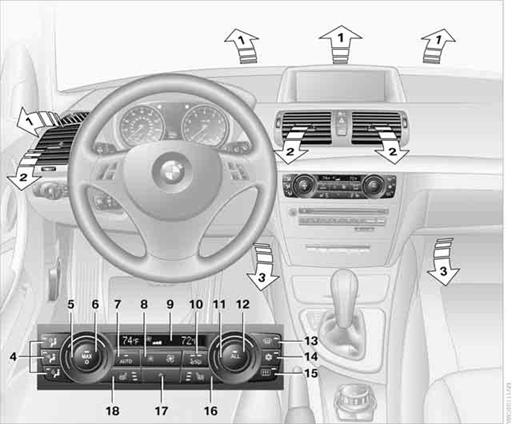 1. Airflow directed toward the windshield and side windows
2. Air to the upper body area: Draft-free ventilation
3. Air to the footwell
4. Air distribution, manual
5. Temperature, left side
6. Maximum cooling
7. AUTO program
8. Air volume, manual adjustment; AUTO intensity
9. Display
10.Automatic recirculated air control AUC/ Recirculated air mode
11.Temperature, right side
12.ALL program
13.Defrosting windows and removing condensation
14.Switching cooling function on/off manually
15.Rear window defroster
16.Seat heating, right side
17.Interior temperature sensor, please keep clear
18.Seat heating, left side
See also:
Instrument cluster
The indicator and warning lamps can light up in a variety of combinations and colors. Several of the lamps are checked for proper functioning when the engine is started or the ignition is swi ...
Radio
FM AM Satellite radio Stored stations ...
What to do if...
The current transmission position cannot be displayed? The vehicle is located in an unrecognized region, is in a poor reception area, or the system is currently determining the position. ...