Service requirements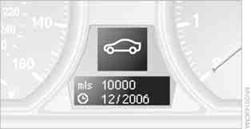 The remaining driving distance and the date of the next scheduled service are displayed briefly immediately after you start the engine or switch on the ignition.

The extent of service work required can be read out from the remote control by your BMW Service Advisor.
For certain maintenance operations, you can view the respective distance remaining or due date individually in the instrument cluster.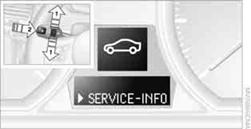 1. Switch on the ignition.
2. Push button 1in the turn signal/high beam lever up or down repeatedly until the appropriate symbol appears in the display, accompanied by the words "SERVICEINFO".
3. Press button 2.
4. Use button 1to scroll through the individual service items.
Possible displays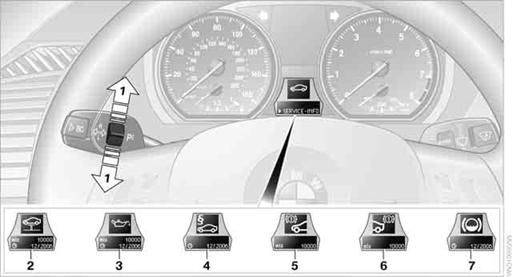 1. Button for selecting functions
2. Service requirements
3. Engine oil
4. Roadworthiness test
5. Front brake pads
6. Rear brake pads
7. Brake fluid
The sequence of displayed service items may vary. The data for the next service appointment is shown first.
More information
Detailed information on service requirements
You can call up additional information on the maintenance regimen on the Control Display.
1. "Vehicle Info"
2. "Vehicle status"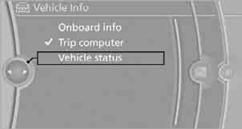 3. "Service required"
Required maintenance procedures and legally mandated inspections are displayed.
You can request more detailed information on every entry:
Select the entry and press the controller.
To exit from the menu:
Move the controller to the left.
Symbols

No service is currently required.

The deadline for service or a legally mandated inspection is approaching. Please
schedule a service appointment.

The service deadline has already passed.
Entering deadlines for legally required inspections
Make sure the date on the Control Display is always set correctly, ; otherwise, the effectiveness of Condition Based Service CBS is not ensured.
1. "Vehicle Info"
2. "Vehicle status"
3. "Service required"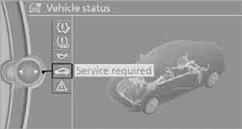 4. "§ Vehicle inspection"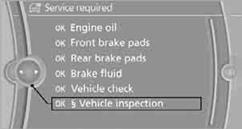 5. Open the menu for entering the deadline.
6. "Date:"
7. Create the settings.
8. Press the controller to apply the setting.
The year is highlighted.
9. Turn the controller to make the adjustment.
10. Press the controller to apply the setting.
The date entry is stored.
To exit from the menu:
Move the controller to the left.
More information on the BMW Maintenance
System can be found on page 221.
Automatic Service Request
Data regarding the maintenance status or legally mandated inspections of the vehicle are automatically transmitted to your BMW center prior to a service due date.
You can check when your BMW center was notified.
1. "Vehicle Info"
2. "Vehicle status"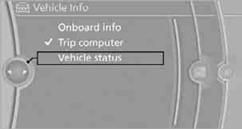 3. "Options"
4. "Last Service Request"
See also:
The interior: premium finish, dynamic lines, driver-friendly cockpit
Inside, a combination of typical BMW design features and innovative accents gives the new BMW 1-Series a fresh, youthful and modern feel, with a focus on spaciousness and driving pleasure. Lines a ...
Cameras
Cameras The two camera lenses are located on the sides of the bumper. The image quality may be impaired by dirt. Clean the lens. ...
Switching off automatically
System switches off: above approx. 9 mph/ 15 km/h. Switch on the system again if necessary. ...