Settings and information
Operating principle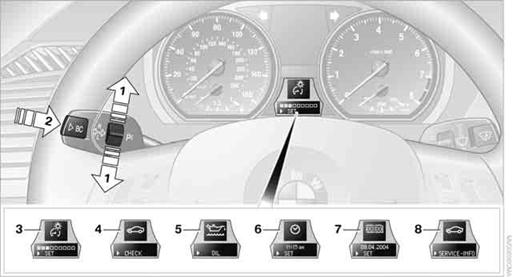 1. Button for:
> Selecting display
> Setting values
2. Button for:
> Confirming selected display or set values
> Calling up computer information
3. When the lights are on: instrument lighting brightness
4. Calling up Check Control
5. Checking oil level
6. Setting the time
7. Setting the date
8. Viewing service requirement display
Exiting displays
The outside temperature reading and the time reappear when you press button 2or if you make no entries within approx. 15 seconds. If required, complete the current setting first.
See also:
Data memory
Your vehicle records data relating to vehicle operation, faults and user settings. These data are stored in the remote control and can be read out with suitable devices, particularly when the ve ...
Protective action
Airbags are not triggered in every impact situation, e.g., in less severe accidents or rear-end collisions. Information on how to ensure the optimal protective effect of the airbags ► Keep ...
1982: the second generation - four-door, Convertible, Touring and BMW M3, plus the first diesel engine for the sports sedan
The new BMW 3-Series oozed progress and variety out of every pore, as its fresh new design, optimised aerodynamics, improved space and comfort, higher output and additional body and engine variant ...