Mirrors
Exterior mirrors

The front passenger's mirror is more convex than the driver's mirror. The objects seen in the mirror are closer than they appear.
Do not gauge your distance from traffic behind you on the basis of what you see in the mirror; otherwise, there is an increased risk of an accident.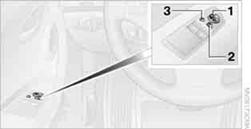 1. Adjustments
2. Switching to the other mirror or automatic curb monitor
3. Folding mirrors in and out
The setting for the exterior mirrors is stored for the remote control currently in use. The stored position is called up automatically when the vehicle is unlocked.
Manual adjustment
The mirrors can also be adjusted manually: press the edge of the glass.
Folding mirrors in and out
At driving speeds up to approx. 12 mph/
20 km/h, you can fold the mirrors in and out by pressing button 3. This can be beneficial in narrow streets, for example, or for moving mirrors that were folded in by hand back out into their correct positions. Mirrors that have been folded in fold out automatically at a speed of approx.
24 mph/40 km/h.
Automatic heating
Depending on the outside temperature, both exterior mirrors are heated automatically when the engine is running or the ignition is switched on.
Passenger-side mirror tilt function – automatic curb monitor
Activating
1. Push the switch to the position for the driver's side mirror, arrow 1.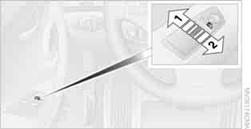 2. Shift into reverse or move the selector lever into the R position.
The glass of the mirror on the passenger side tilts slightly down. This allows the driver to see the area immediately adjacent to the vehicle, e.g. a curb, when backing into a parking space.
Deactivating
Push the switch to the position for the passenger side mirror, arrow 2.
Interior rearview mirror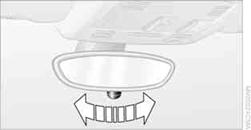 Turn the knob to reduce glare from the headlamps of cars behind you when driving at night.
Interior and exterior mirrors, automatic dimming feature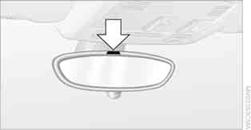 The automatic dimming feature of the interior and exterior mirrorsis controlled by two photo cells in the interior rearview mirror. One photo cell is in the mirror frame, see arrow; the other is on the back of the mirror.
In order to ensure that the system functions correctly, keep the photo cells clean, do not cover the area between the interior rearview mirror and windshield, and do not affix adhesive labels or stickers of any kind to the windshield directly in front of the mirror.
See also:
Communication
All of the options available to you for mobile communication with family, friends, business partners, and service providers are described in this chapter. ...
Safety
Standard safety features include antilock brakes, an electronic stability system, side-impact airbags for the front seats, side curtain airbags for both rows, and active front head restraints. F ...
System limits
Personal responsibility The system cannot serve as a substitute for the driver's personal judgment of the traffic situation. In the event of a warning, do not jerk the steering wheel, as ...