Seat and mirror memory
You can store and call up two different combinations of driver's seat and exterior mirror positions.
Settings for the backrest width and lumbar support are not stored in memory.
Storing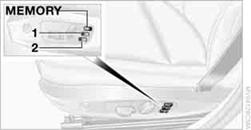 1. Switch on radio readiness or the ignition.
2. Adjust the seat and exterior mirrors to the desired positions.
3. Press the

button.
The LED in the button lights up.
4. Press the desired memory button 1or 2:
the LED goes out.
Call-up

Do not call up the memory while you are driving; otherwise, unexpected seat movement could result in an accident.
Comfort function
1. Unlock and open the driver's door or switch on radio readiness.
2. Briefly press the desired memory button 1
or 2.
The adjusting procedure is halted when you touch a seat adjustment switch or one of the memory buttons.
Safety feature
1. Close the driver's door and switch the ignition on or off.
2. Press the desired memory button 1or 2and keep it pressed until the adjustment process has been completed.
If the

button was pressed accidentally: Press the button again; the LED goes out.
See also:
Seats with safety belt
The vehicle has five seats, each of which is equipped with a safety belt. ...
Destination entry via voice
General informationFor instructions on the voice activation system. > During the destination entry by voice, you can switch between voice entry and entry via iDrive at any time. To do so, reacti ...
Software Update
The vehicle supports various external devices depending on the current software version. With a software update, the vehicle can support new cell phones or new external device, for example. ...