Seat and mirror memory
You can store and call up two different combinations of driver's seat and exterior mirror positions.
Settings for the backrest width and lumbar support are not stored in memory.
Storing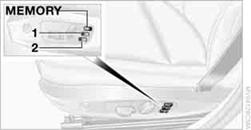 1. Switch on radio readiness or the ignition.
2. Adjust the seat and exterior mirrors to the desired positions.
3. Press the

button.
The LED in the button lights up.
4. Press the desired memory button 1or 2:
the LED goes out.
Call-up

Do not call up the memory while you are driving; otherwise, unexpected seat movement could result in an accident.
Comfort function
1. Unlock and open the driver's door or switch on radio readiness.
2. Briefly press the desired memory button 1
or 2.
The adjusting procedure is halted when you touch a seat adjustment switch or one of the memory buttons.
Safety feature
1. Close the driver's door and switch the ignition on or off.
2. Press the desired memory button 1or 2and keep it pressed until the adjustment process has been completed.
If the

button was pressed accidentally: Press the button again; the LED goes out.
See also:
The concept
The rear view camera assists you when parking and maneuvering in reverse. To accomplish this, the region behind your vehicle is shown on the Control Display. ...
Manual transmission
Starting the engine 1. Depress the brake pedal. 2. Press on the clutch and shift to neutral. 3. Press the Start/Stop button. The ignition is activated automatically for a certain time and is sto ...
Tire damage
General information Inspect your tires often for damage, foreign objects lodged in the tread, and tread wear. Notes Driving over rough or damaged road surfaces, as well as debris, curbs and oth ...