Seat and mirror memory
You can store and call up two different combinations of driver's seat and exterior mirror positions.
Settings for the backrest width and lumbar support are not stored in memory.
Storing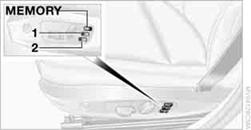 1. Switch on radio readiness or the ignition.
2. Adjust the seat and exterior mirrors to the desired positions.
3. Press the

button.
The LED in the button lights up.
4. Press the desired memory button 1or 2:
the LED goes out.
Call-up

Do not call up the memory while you are driving; otherwise, unexpected seat movement could result in an accident.
Comfort function
1. Unlock and open the driver's door or switch on radio readiness.
2. Briefly press the desired memory button 1
or 2.
The adjusting procedure is halted when you touch a seat adjustment switch or one of the memory buttons.
Safety feature
1. Close the driver's door and switch the ignition on or off.
2. Press the desired memory button 1or 2and keep it pressed until the adjustment process has been completed.
If the

button was pressed accidentally: Press the button again; the LED goes out.
See also:
FTM Flat Tire Monitor
The concept The system does not measure the actual inflation pressure in the tires. It detects a pressure loss in a tire by comparing the rotational speeds of the individual wheels while moving ...
Customer Relations
At a glanceContact Customer Relations for information on all aspects of your vehicle. Calling Customer RelationsVehicle not equipped with BMW Assist or BMW TeleServices 1. "BMW Assist&quo ...
Tire Pressure Monitor TPM
The conceptCheck the inflation pressure in the four installed tires. The system notifies you if there is a significant loss of pressure in one or more tires. Functional requirementThe system must h ...