Seat and mirror memory
You can store and call up two different combinations of driver's seat and exterior mirror positions.
Settings for the backrest width and lumbar support are not stored in memory.
Storing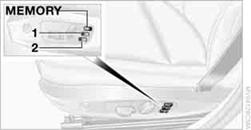 1. Switch on radio readiness or the ignition.
2. Adjust the seat and exterior mirrors to the desired positions.
3. Press the

button.
The LED in the button lights up.
4. Press the desired memory button 1or 2:
the LED goes out.
Call-up

Do not call up the memory while you are driving; otherwise, unexpected seat movement could result in an accident.
Comfort function
1. Unlock and open the driver's door or switch on radio readiness.
2. Briefly press the desired memory button 1
or 2.
The adjusting procedure is halted when you touch a seat adjustment switch or one of the memory buttons.
Safety feature
1. Close the driver's door and switch the ignition on or off.
2. Press the desired memory button 1or 2and keep it pressed until the adjustment process has been completed.
If the

button was pressed accidentally: Press the button again; the LED goes out.
See also:
Children should always be in the rear
Accident research shows that the safest place for children is in the back seat. Transporting children in the rear Only transport children younger than 13 years of age or shorter than 5 ft/1 ...
Front head restraints
Correctly adjusted head restraint A correctly adjusted head restraint reduces the risk of injury to cervical vertebrae in the event of an accident. Adjusting the head restraint Correctly adjus ...
Indicator/warning lamps
Indicator/warning lamps The indicator and warning lamps can light up in a variety of combinations and colors. Several of the lamps are checked for proper functioning and light up temporarily ...