Seat and mirror memory
You can store and call up two different combinations of driver's seat and exterior mirror positions.
Settings for the backrest width and lumbar support are not stored in memory.
Storing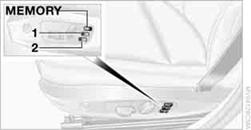 1. Switch on radio readiness or the ignition.
2. Adjust the seat and exterior mirrors to the desired positions.
3. Press the

button.
The LED in the button lights up.
4. Press the desired memory button 1or 2:
the LED goes out.
Call-up

Do not call up the memory while you are driving; otherwise, unexpected seat movement could result in an accident.
Comfort function
1. Unlock and open the driver's door or switch on radio readiness.
2. Briefly press the desired memory button 1
or 2.
The adjusting procedure is halted when you touch a seat adjustment switch or one of the memory buttons.
Safety feature
1. Close the driver's door and switch the ignition on or off.
2. Press the desired memory button 1or 2and keep it pressed until the adjustment process has been completed.
If the

button was pressed accidentally: Press the button again; the LED goes out.
See also:
Multi-channel playback, surround
Setting multi-channel playback, surround 1. "CD/Multimedia", "Radio" or "Settings" 2. "Tone" 3. "Surround" Surround When surround is activate ...
Adjusting the side extensions
Adjusting the side extensions Fold forward for increased lateral support in the resting position. Removing The head restraints cannot be removed. ...
Storing favorites
Up to 30 favorites can be stored in the favorites list. Available favorites are artist, track, game, league, and team. Storing the artist, track, or game It is only possible to store favorites t ...