Heated seats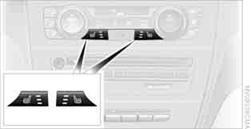 Press the button once per temperature level. Three LEDs indicate the highest temperature.
To switch off:
Press button longer.
If you continue driving within approx. the next 15 minutes, the seat heating is automatically activated at the previously set temperature.
The temperature is lowered or the heating is switched off entirely to save on battery power. The LEDs stay lit.
See also:
System limits
Changes to the parking space Changes to the parking space after it was measured are not taken into account by the system. Therefore, always be alert and ready to intervene; otherwise, there is ...
Entering dates
Enter the dates for the required inspections. Make sure the date on the Control Display is set correctly 1. "Vehicle Info" 2. "Vehicle status" 3. "Service required&qu ...
Fuses
Notes Replacing fuses Never attempt to repair a blown fuse and do not replace a defective fuse with a substitute of another color or amperage rating; this could lead to a circuit overload, ul ...