Heated seats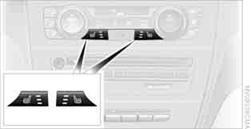 Press the button once per temperature level. Three LEDs indicate the highest temperature.
To switch off:
Press button longer.
If you continue driving within approx. the next 15 minutes, the seat heating is automatically activated at the previously set temperature.
The temperature is lowered or the heating is switched off entirely to save on battery power. The LEDs stay lit.
See also:
USB audio interface/audio interface for mobile phone
OverviewIt is possible to connect external audio devices. They can be operated via iDrive. Sound is output over the vehicle speakers. Options for connecting external devices > Connection via US ...
Tire inflation pressures up to 100 mph/ 160 km/h
For speeds of up to 100 mph/160 km/h and for optimum driving comfort, note the pressure values in the tire inflation pressure table, and adjust as necessary. These pressure values can also be f ...
Brake system
Brakes require an initial break-in period of approx. 300 miles/500 km to achieve optimized contact and wear patterns between brake pads and discs. Drive moderately during this break-in period. ...