Around the steering wheel: controls and displays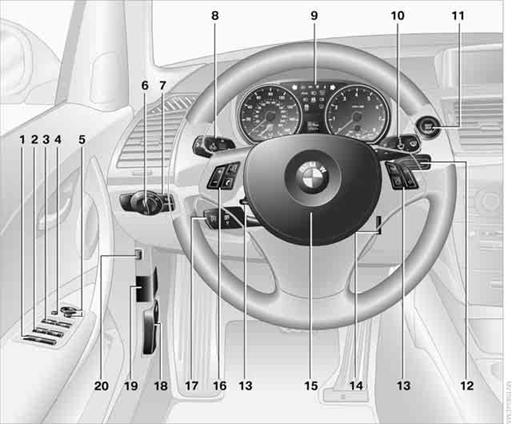 1.

Convertible: opening and closing windows jointly
2.
Convertible: opening and closing rear windows
3.

Opening and closing front windows
4.Folding exterior mirrors in and out
5.Adjusting exterior mirrors, automatic curb monitor
6.

Parking lamps


Low beams

Automatic headlamp control
Adaptive Light Control
High-beam Assistant
7.

Fog lamps
8.

Turn signals


High beams, headlamp flasher


High-beam Assistant


Roadside parking lamps


Computer


Settings and information about the vehicle
9.Instrument cluster
10.

Windshield wipers

Rain sensor
11.

Switching the ignition on/off and starting/stopping the engine
12.Ignition lock
13.Buttons on the steering wheel


Telephone:
Accepting and ending a call; dialingthe selected phone number; redialing if no phone number is selected


Volume


Activating/deactivating the voice activation system


Changing the radio station Interrupting a traffic bulletin
Selecting a music track
Scrolling through the redial list


Next entertainment source


Recirculated air mode


Steering wheel heating
15.Horn, entire surface
16. Adjusting the steering wheel
17.
Cruise control
18.Releasing the hood
19.OBD socket
20.Opening the trunk lid
See also:
Storing favorites
Up to 30 favorites can be stored in the favorites list. Available favorites are artist, track, game, league, and team. Storing the artist, track, or game It is only possible to store favorites t ...
Example: playing back a CD
1. Switch on the Entertainment sound output if necessary. 2. Press the button on the steering wheel. 3. ›C D and multimedia‹ The medium last played is played back. 4. Press the button on t ...
Controls
This chapter is intended to provide you with information that will give you complete control of your vehicle. All features and accessories that are useful for driving and your safety, comfort an ...