Checking the oil level
The concept
The oil level is monitored electronically and displayed on the Control Display.
Requirements
The engine must be running and warm after the vehicle has been driven for at least 6 miles/10 km.
The vehicle is stopped or being driven on a level roadway.
Displaying the oil level
1. "Vehicle Info"
2. "Vehicle status"
3. "Engine oil level"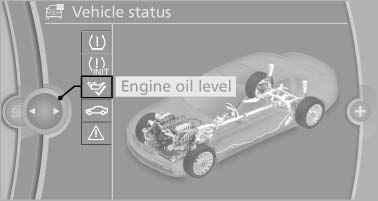 Possible messages
"Engine oil level OK"
"Measurement not possible at this time."
"Measuring engine oil level..."
Duration with the engine running: approx. 3 minutes.
Duration while driving: approx. 5 minutes.
"Engine oil level below minimum. Add 1 quart!"
Add oil within the next 125 miles/200 km.
"Engine oil level too high! Have this checked."
Have the vehicle checked immediately.

Too much engine oil
Have the vehicle checked immediately; otherwise, surplus oil can lead to engine damage.

"Measurement inactive. Have this checked."
Note the newly calculated remaining mileage until the next oil service. Have the system checked as soon as possible.
See also:
Convertible: cargo loading
Enlarging the cargo area When the convertible top is closed you can enlarge the cargo area: To do so, fold the cargo area partition upward. Before opening the convertible top, pull the cargo area p ...
Sitting safely
The ideal seating position can make a vital contribution to relaxed, fatigue-free driving. The seating position plays an important role in an accident in combination with: ▷ Safety belts. ...
Traffic Jump
Traffic and weather information for a selected region is broadcast every few minutes. Selecting a region 1. "Radio" 2. "Satellite radio" 3. Open "Options". 4. &quo ...