Storing favorites
Up to 30 favorites can be stored in the favorites list. Available favorites are artist, track, game, league, and team.
Storing the artist, track, or game
It is only possible to store favorites that are currently being broadcast. The channel information must be available.
1. "Radio"
2. "Satellite radio"
3. If necessary, open "All channels" or the desired category.
4. Select the desired channel.
5. Press the controller again.
6. Select the artist, track, or game.
Storing the league or team
Leagues or teams can be added to the favorites from a selection list.
1. "Radio"
2. "Satellite radio"
3.

"Manage favorites"
4. "Add sports information"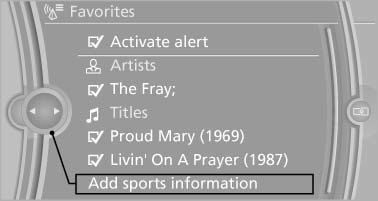 5. Select the league.
6. Select "Add all teams" or the desired team.
See also:
Removing the mobile phone
Press the button and remove the mobile phone. ...
Deleting stored functions
Press and hold the left and right button on the interior rearview mirror simultaneously for approximately 20 seconds until the LED flashes rapidly. All stored functions are deleted. The functions ...
Mirror display
The point of the compass is displayed in the mirror when driving straight. ...