Selecting channels
You can only listen to enabled channels.
The selected channel is stored for the remote control currently in use.
Via iDrive
1. "Radio"
2. "Satellite radio"
3. Select "All channels" or the desired category.
4. Select the desired channel.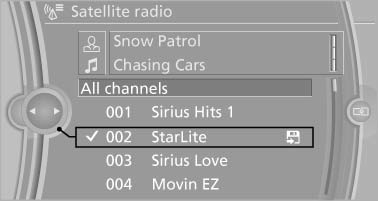 Via the buttons on the center console

Press the button.
The next channel is selected.
Via direct channel entry
1. "Radio"
2. "Satellite radio"
3.

"Set channel"
4. Turn the controller until the desired channel is reached and press the controller.