Route criteria
General information
The route calculated can be influenced by selecting certain criteria.
The route criteria can be changed when the destination is entered and during destination guidance.
Road types are part of the navigation data and are taken into consideration when planning a route, e.g., avoid highways.
The recommended route may differ from the route you would take based on personal experience.
The settings are stored for the remote control currently in use.
Destination guidance with traffic bulletins.
Changing the route criteria
1. "Navigation"
2. "Map"
3.



"Route preference"
4. Select the criterion:
"Fast route": time-optimized route, being a combination of the shortest possible route and the fastest roads.
"Efficient route": optimized combination of the fastest and shortest route.
"Short route": short distance, irrespective of how fast or slow progress will be.
"Alternative routes": if available, alternative routes are suggested during active route guidance. The individual suggestions are highlighted in color.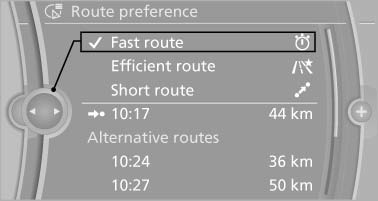 5. Specify additional criteria for the route, if necessary:
"Avoid highways": highways are avoided wherever possible.
"Avoid toll roads": toll roads are avoided wherever possible.
"Avoid ferries": ferries are avoided where possible.
See also:
Comfort position
In the comfort position, the roof is not fully open. This reduces wind noise in the passenger compartment. Each time the glass sunroof is opened or closed all the way, it stops in the comfort posi ...
Built for Curves
Like BMW's cars, the X3 offers top-notch road manners. Some may find the steering wheel too difficult to turn, but its heavy rotations render spot-on directional control. The meaty steering wheel ...
General information
Refuel promptly Refuel below a range of 30 miles/50 km; otherwise, engine functions are not ensured and damage may occur. ...