Front ventilation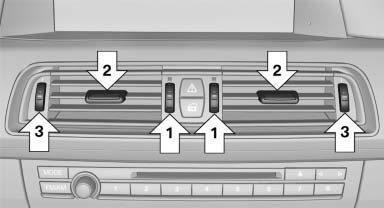 Thumbwheels for adjusting the temperature, arrows 1.
Toward blue: colder.
Toward red: warmer.
Lever for changing the air flow direction, arrow 2.
Thumbwheels for opening and closing the vents continuously, arrows 3.
Ventilation levels
Draft-free ventilation:
Thumbwheel, arrow 3, in level : the air current is fanned out.
Maximum air volume: Thumbwheel, arrow 3, in level : the air is partially fanned out and partially bundled. This maximizes the air supply.
Direct ventilation: Thumbwheel, arrow 3, in level : the air is bundled and can be directed to a specific point.
Adjusting the ventilation
Ventilation for cooling: Adjust the vent to direct the air in your direction, e.g., if the vehicle interior is hot from the sun.
Draft-free ventilation: Adjust the vent to let the air flow past you.
See also:
Automatic update
About twice a year, Sirius performs an update of the channel names and positions. The update takes place automatically and may take several minutes. ...
Ventilation in rear
Ventilation in rear 1. Use the thumbwheels to smoothly open and close the air vents 2. Thumbwheels to adjust temperature in upper body region; can be adjusted separately for left and right: ...
Switch off any functions that are not currently needed
Functions such as seat heating and the rear window defroster require a lot of energy and consume additional fuel, especially in city and stopand- go traffic. Therefore, switch off these functio ...