Displays in the instrument cluster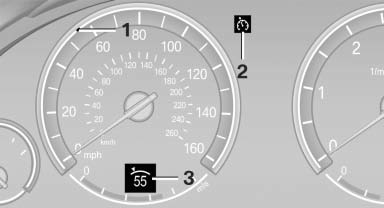 1 Display of desired speed
2 Indicator lamp
3 Brief status display
Desired speed
Display in the speedometer:

The marking lights up in green: the system is active.
The marking lights up in orange: the system has been interrupted.
The marking does not light up: the system is switched off.
Brief status display
Brief display in the speedometer:

Selected desired speed
If --- appears briefly, conditions may not be adequate to operate the system.
See also:
Check the tire inflation pressure regularly
Check and, if necessary, correct the tire inflation pressure at least twice a month and before starting on a long trip. Low tire inflation pressure increases rolling resistance and thus raises ...
Preparation
1. Check whether the battery of the other vehicle has a voltage of 12 volts. This information can be found on the battery. 2. Switch off the engine of the assisting vehicle. 3. Switch off any el ...
Adding engine oil
Filler neck When the indicator lights up in the instrument cluster, add 1 US quart/liter of engine oil within the next 125 miles/200 km. Do not add too much engine oil When too much engine o ...