Hiding Check Control messages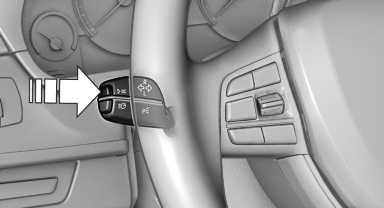 Press the computer button on the turn signal lever.
Some Check Control messages are displayed continuously and are not cleared until the malfunction is eliminated. If several malfunctions occur at once, the messages are displayed consecutively. These messages can be hidden for approx. 8 seconds. After this time, they are displayed again automatically.
Other Check Control messages are hidden automatically after approx. 20 seconds. They are stored and can be displayed again later.
See also:
Drive-off assistant
The drive-off assistant enables you to drive off smoothly on uphill gradients. It is not necessary to use the parking brake for this. 1. Hold the car in place by depressing the brake. 2.&nbs ...
Rear view: striking indications of dynamic and secure roadholding.
From the rear, the new BMW 6-Series Coupe exudes power, athleticism and solidity. Bulging wheel arches accentuate the wide track of the new car, offering a hint of its impressive roadholding. Adde ...
Vehicle paint
Regular care contributes to driving safety and value retention. Environmental influences can act on the vehicle paint. Tailor the frequency and extent of your car care to these influences. ...