Manual release
The parking brake can be released manually in the event of a power failure or electrical fault.

Before releasing, secure the vehicle against rolling
Before releasing the parking brake manually, and whenever you park the vehicle with the parking brake released, ensure that position P of the automatic transmission is engaged.
Secure the vehicle in a manner appropriate to the inclination of the road, e.g., with a wheel chock; otherwise, there is the danger of the vehicle rolling.
Unlocking
1. Remove the release tool from the tool kit.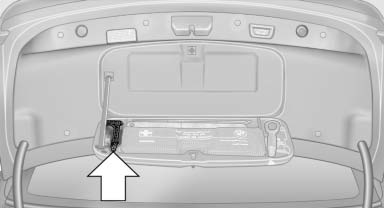 2. Raise the floor panel in the cargo area.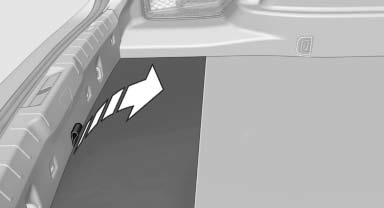 3. Take out the floor trim in the cargo area, removing the screws with the release tool, arrows.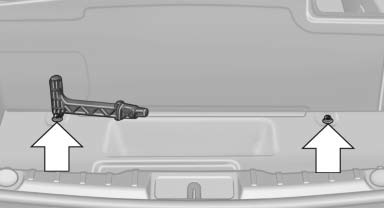 4. Place the release tool on the release point, arrow.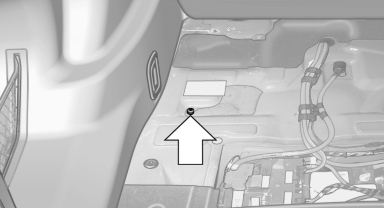 5. Forcefully pull the release tool up against the resistance until you notice a marked increase in the resistance and the parking brake releases audibly.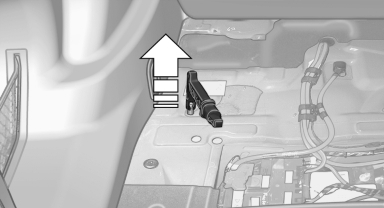 Have the malfunction corrected
If the parking brake has been released manually in response to a malfunction, only technicians can return it to operation.
Have the malfunction corrected by your service center.
See also:
Car washes
Notes Steam jets or high-pressure washers When using steam jets or high-pressure washers, hold them a sufficient distance away and use a maximum temperature of 140 ℉/ 60 ℃. Holdi ...
Country codes of DVDs
Your DVD player only plays DVDs with the coding of your home region, e.g., Europe=2. The country codes supported by your DVD are contained in the information on your DVD. An overview of the cod ...
Precise lines produce a stretched silhouette and enhance the car's dynamic impact
Powerfully taut surfaces with sweeping lines dominate the side view of the BMW 3-Series Sedan, stretching the car visually and lending extra verve to its dynamic stance. The flanks of the car are ...