Buckling the belt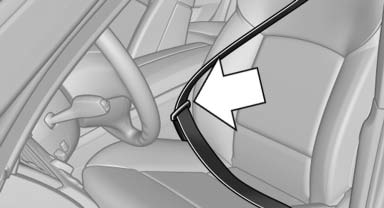 Make sure you hear the latch plate engage in the belt buckle.
Tensioning the safety belt automatically
After the belt is buckled and the door is closed, the belt is tightened once automatically.
Unbuckling the belt
1. Hold the belt firmly.
2. Press the red button in the belt buckle.
3. Guide the belt back into its reel.
Safety belt reminder for the driver's and front passenger seat

The indicator lamp flashes or lights up and a signal sounds. Make sure that the safety belts are positioned correctly. The safety belt reminder is active at speeds above approx. 5 mph/8 km/h. It can also be activated if objects are placed on the front passenger seat.
Safety mode
In critical situations, e.g., during full brake application, the front safety belts tighten automatically.
If the situation passes without an accident occurring, the belt tension relaxes.
If the belt tension does not loosen automatically, stop the vehicle and unbuckle the belt using the red button in the buckle. Fasten the belt before continuing on your trip.
Damage to safety belts
In the case of strain caused by accidents or damage:
Have the safety belts, including the safety belt tensioners, replaced and have the belt anchors checked.

Checking and replacing safety belts
Have the work performed only by your service center; otherwise, it cannot be ensured that this safety feature will function properly.
See also:
Displays in the instrument cluster
Displays in the instrument cluster 1, Display for target speed 2, HDC display ...
Interior
The four-seat interior incorporates a shelved dashboard that houses the navigation display without adding an extra hump in the center, as many BMW dashboards do. Metallic rings grace the dual-zone ...
Buttons on controller
MENU Opens the main menu RADIO Opens the Radio menu CD Opens the CD/Multimedia menu NAV Opens the Navigation menu TEL Opens the Teleph ...