Interrupting the system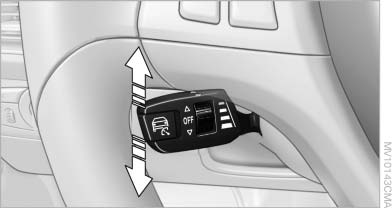 Interrupting the system
Press the lever up or down and additionally depress the brake if the vehicle is stationary. The mark in the speedometer changes color and the distance indicator goes out.
In addition, the system is interrupted:
▷ When the brakes are applied.
▷ When the transmission position D is disengaged.
▷ When DTC is activated or DSC is deactivated.
▷ When DSC is activated
▷ When the safety belt and the driver's door are opened while the vehicle is stationary.
▷ When the system has not detected objects for an extended period, e.g., on a road with very little traffic without road edge line markings<>.
▷ The radar sensor is dirty.

Active intervention if the system is interrupted
If the system is interrupted, actively intervene by braking and, if necessary, with evasive maneuvers; otherwise, there is the danger of an accident occurring.◀
See also:
Tire Pressure Monitor TPM
The conceptCheck the inflation pressure in the four installed tires. The system notifies you if there is a significant loss of pressure in one or more tires. Functional requirementThe system must h ...
Incoming call
Receiving calls If the number of the caller is stored in the phone book and is transmitted by the network, the name of the contact is displayed. Otherwise, only the phone number is displayed. ...
Headphones, vehicle loudspeakers
Connecting the headphones Normal headphones Connect via the jack 1/8"/3.5 mm, on the rear CD/DVD player. Infrared headphones Connection via the infrared interface on the lower edge of the s ...