Interrupting the system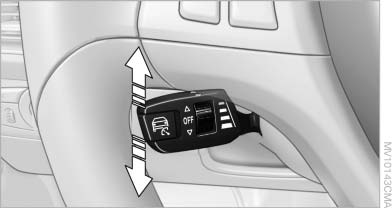 Interrupting the system
Press the lever up or down and additionally depress the brake if the vehicle is stationary. The mark in the speedometer changes color and the distance indicator goes out.
In addition, the system is interrupted:
▷ When the brakes are applied.
▷ When the transmission position D is disengaged.
▷ When DTC is activated or DSC is deactivated.
▷ When DSC is activated
▷ When the safety belt and the driver's door are opened while the vehicle is stationary.
▷ When the system has not detected objects for an extended period, e.g., on a road with very little traffic without road edge line markings<>.
▷ The radar sensor is dirty.

Active intervention if the system is interrupted
If the system is interrupted, actively intervene by braking and, if necessary, with evasive maneuvers; otherwise, there is the danger of an accident occurring.◀
See also:
General information
Lamps and bulbs make an essential contribution to vehicle safety. The manufacturer of the vehicle recommends that you entrust corresponding procedures to the service center if you are unfamiliar ...
Have maintenance carried out
Have vehicles maintained regularly to achieve optimal vehicle economy and operating life. Have the maintenance carried out by your service center. Please also note the BMW Maintenance System ...
Leather care
Remove dust from the leather often, using a cloth or vacuum cleaner. Otherwise, particles of dust and road grime chafe in pores and folds, and lead to increased wear and premature degradation o ...