Opening
During opening, the trunk lid pivots back and up. Ensure that adequate clearance is available before opening.
Opening from the outside
Press the button on the trunk lid.
Press the button on the remote control for approx. 1 second and release.
Opening from the inside

Push the button in the driver's footwell.
If the vehicle is stationary, the trunk lid opens if it is not locked.
Manual release
All of the vehicle's keys fit the trunk lid lock, located in the license plate recess.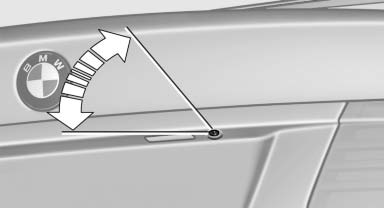 Turn the key all the way to the left. The trunk lid unlocks.
To avoid locking yourself out of the vehicle, do not place the key or remote control in the cargo area.
The trunk lid is locked again as soon as it is pushed closed.
If the trunk lid is opened via the lock with the alarm system armed, the alarm is triggered. Therefore, unlock the vehicle first.
If the alarm has been triggered accidentally: switch off the alarm.
See also:
All around the headliner
All around the headliner 1. Emergency Request 2. Glass sunroof, powered 3. Indicator lamp, front passenger airbag 4. Reading lamps 5. Interior lamps ...
BMW X5: rear
BMW X5: rear 1. Lift off the wiper arm completely and pull off the wiper blade, refer to arrow. 2. Mount the new wiper blade and press on until it is heard to engageLamp and bulb replacement ...
Reading out loud
Text messages, e-mails, appointment entries, tasks, and notes can be read out loud. 1. Select the desired message, appointment, task, or note. 2. Select the symbol. The following options are a ...