Opening
During opening, the trunk lid pivots back and up. Ensure that adequate clearance is available before opening.
Opening from the outside
Press the button on the trunk lid.
Press the button on the remote control for approx. 1 second and release.
Opening from the inside

Push the button in the driver's footwell.
If the vehicle is stationary, the trunk lid opens if it is not locked.
Manual release
All of the vehicle's keys fit the trunk lid lock, located in the license plate recess.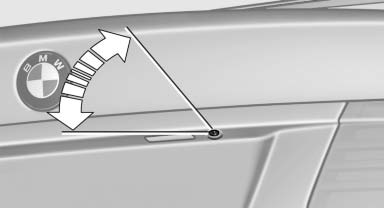 Turn the key all the way to the left. The trunk lid unlocks.
To avoid locking yourself out of the vehicle, do not place the key or remote control in the cargo area.
The trunk lid is locked again as soon as it is pushed closed.
If the trunk lid is opened via the lock with the alarm system armed, the alarm is triggered. Therefore, unlock the vehicle first.
If the alarm has been triggered accidentally: switch off the alarm.
See also:
Sitting safely
The ideal seating position can make a vital contribution to relaxed, fatigue-free driving. The seating position plays an important role in an accident in combination with: ▷ Safety belts. ...
Fold-out position of the wipers
Required when changing the wiper blades or under frosty conditions, for example. 1. Switch off the ignition. 2. Under frosty conditions, ensure that the wiper blades are not frozen onto the wind ...
Phone book
Displays The phone book accesses the contacts and shows all contacts for which a phone number has been stored. The entries can be selected to make a call. 1. "Telephone" 2. "Ph ...