Opening
During opening, the trunk lid pivots back and up. Ensure that adequate clearance is available before opening.
Opening from the outside
Press the button on the trunk lid.
Press the button on the remote control for approx. 1 second and release.
Opening from the inside

Push the button in the driver's footwell.
If the vehicle is stationary, the trunk lid opens if it is not locked.
Manual release
All of the vehicle's keys fit the trunk lid lock, located in the license plate recess.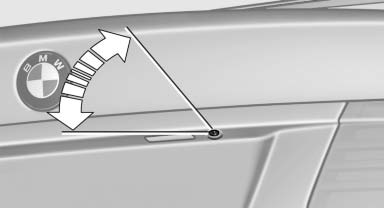 Turn the key all the way to the left. The trunk lid unlocks.
To avoid locking yourself out of the vehicle, do not place the key or remote control in the cargo area.
The trunk lid is locked again as soon as it is pushed closed.
If the trunk lid is opened via the lock with the alarm system armed, the alarm is triggered. Therefore, unlock the vehicle first.
If the alarm has been triggered accidentally: switch off the alarm.
See also:
Indicator lamps without text messages
The following indicator lamps notify you that certain functions are active: Symbol Function or system Parking brake set Canada: parking brake set High beams/headlamp flasher Front fog lamps ...
Ignition on
Press the Start/Stop button, and do not press on the brake pedal at the same time. All vehicle systems are ready for operation. Most of the indicator and warning lamps in the instrument cluster ...
Optional Variable Sports Steering
Optionally a new variable-ratio steering system can be specified. Variable Sports Steering provides different steering gear ratios depending on the angle of the steering wheel, so that the new BMW ...