Opening
During opening, the trunk lid pivots back and up. Ensure that adequate clearance is available before opening.
Opening from the outside
Press the button on the trunk lid.
Press the button on the remote control for approx. 1 second and release.
Opening from the inside

Push the button in the driver's footwell.
If the vehicle is stationary, the trunk lid opens if it is not locked.
Manual release
All of the vehicle's keys fit the trunk lid lock, located in the license plate recess.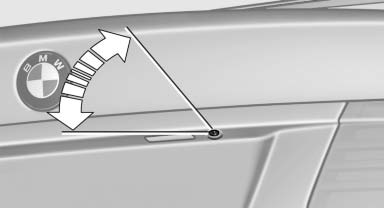 Turn the key all the way to the left. The trunk lid unlocks.
To avoid locking yourself out of the vehicle, do not place the key or remote control in the cargo area.
The trunk lid is locked again as soon as it is pushed closed.
If the trunk lid is opened via the lock with the alarm system armed, the alarm is triggered. Therefore, unlock the vehicle first.
If the alarm has been triggered accidentally: switch off the alarm.
See also:
Enlarging the cargo area
The rear seat backrest is divided. You can fold down both sides separately in order to expand the cargo area. BMW X6: before folding the rear seat backrest forward Before folding the rear se ...
Unmatched in the segment: Electric Power Steering as standard, Integral Active Steering optional.
The Electric Power Steering system with Servotronic function delivering speed-sensitive power assistance is unique in the BMW 6-Series Coupe segment and combines customary BMW precision, comfort a ...
Reserve
After the reserve range is reached: ▷ A message is briefly displayed on the Control Display. ▷ The remaining range is shown on the computer. ▷ When a dynamic driving style is us ...