Software Update
The vehicle supports various external devices depending on the current software version. With a software update, the vehicle can support new cell phones or new external device, for example.
The updating of the software is done via:
► USB.
Updates and related current information is available at www.bmw.com/update.
Displaying the current version
The currently installed software is displayed.
1. "Settings"
2. "Software update"
3. "Show current version"
SelectDesired version to displayAdditional information.
Updating software via USB
The software may only be updated when the vehicle is stationary.
1. Store the file for the software-update in the main director of a USB flash drive.
2. Insert the USB flash drive into the USB interface of the USB audio interface in the center armrest. An update via the USB interface in the glove compartment is not possible.
3. "Settings"
4. "Software update"
5. "Update software"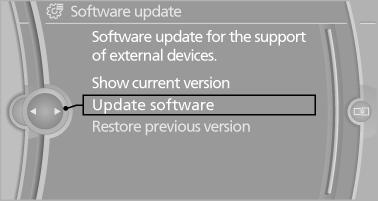 6. "Start update"
7. "OK"
All listed software updates are installed.
Restoring the previous version
The software version before the last software update can be restored.
The previous version may only be restored when the vehicle is stationary.
1. "Settings"
2. "Software update"
3. "Restore previous version"
4. "OK" Double-click.
All listed software updates are removed.
Note
While the software is being updated or a previous version is being restored, BMW Assist, Office functions and the connected devices are temporarily unavailable. Wait several minutes for the functions to become available again.
See also:
Displaying status
Information about the currently available software applications can be displayed. 1. "ConnectedDrive" 2. "BMW apps" ...
Socket for OBD Onboard Diagnosis
Position There is an OBD socket on the driver's side for checking the primary components in the vehicle emissions. Emissions ▷ The warning lamp lights up: Emissions are deteriorating ...
Interior rearview mirror
Reducing the blinding effect From behind when driving at night: turn the knob. ...