Seat and mirror memory
General information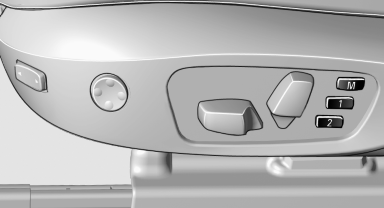 Two different driver's seat and exterior mirror positions can be stored and retrieved for each remote control. Settings for the backrest width and lumbar support are not stored in memory.
Storing
1. Switch on the ignition.
2. Set the desired position.
3.

Press the button. The LED in the button lights up.
4. Press the desired button 1 or 2. The LED goes out.
If the M button is pressed accidentally:

Press the button again.
The LED goes out.
Calling up settings

Do not retrieve the memory while driving
Do not retrieve the memory setting while driving, as an unexpected movement of the seat or steering wheel could result in an accident.◄
Comfort function
1. Open the driver's door.
2. Switch off the ignition.
3. Briefly press the desired button 1 or 2.
The corresponding seat position is performed automatically.
The procedure stops when a switch for adjusting the seat or one of the buttons is pressed.
Safety mode
1. Close the driver's door or switch on the ignition.
2. Press and hold the desired button 1 or 2 until the adjustment procedure is completed.
Calling up of a seat position deactivated
After a brief period, the calling up of stored seat positions is deactivated to save battery power.
To reactivate calling up of a seat position:
► Open or close the door or tailgate.
► Press a button on the remote control.
► Press the Start/Stop button.
See also:
The concept
The iDrive combines the functions of a multitude of switches. Thus, these functions can be operated from a central location. Using the iDrive during a trip To avoid becoming distracted and po ...
Automatic mode
The Auto Start/Stop function is operational after each engine start. The function is activated above a certain speed. ► Automatic transmission: from 5 mph, approx. 9 km/h. ...
Operation
Adjusting the volume Turn the knob until the desired volume is reached. The setting is stored for the remote control currently in use. The vehicle automatically adjusts the volume of the microphon ...