External devices
General information
External audio and video devices and digital cameras can be connected to cinch sockets, on the CD/DVD player. Operation takes place on the external device.
Due to the large number of different audio and video devices available on the market, it cannot be ensured that every audio and video device will be displayed correctly on the screen.
Connecting an external device
1. Fold down the cover in front of the cinch sockets on the CD/DVD player.
2. Connect the external device to the RCA sockets.
▷ Video: yellow socket.
▷ Audio: white and red socket.
Starting playback
1. "CD/Multimedia"
2. "External devices"
3. Select the

or

symbol
Volume
The volume of the sound output is dependent on the audio device. If this volume differs markedly from the volume of the other audio sources, it is advisable to adjust the volumes.
Adjusting the volume
The volume can only be adjusted if no external video device is connected.
1. "CD/Multimedia"
2. "External devices"
3. Select the

or

symbol.
4. "Volume"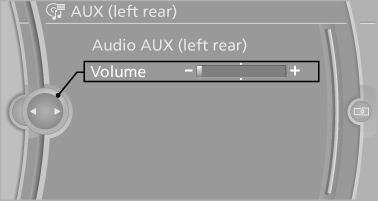 5. Turn the controller until the desired volume is set and press the controller.
What to do if...
Only a black screen is visible.
▷ Switch on the system.
There are no options available on the screen.
▷ Replace remote control batteries.
▷ With Professional rear seat entertainment toggle between screens if necessary.
Radio stations or TV channels are grayed out and cannot be selected.
▷ Function is limited due to the selected priority.
Change priority.
The DVD does not play.
▷ Playback does not begin automatically.
Start DVD manually
The volume of the rear vehicle speakers cannot be adjusted.
▷ Sound in the rear is output via the headphones.
Change priority if necessary and output sound via vehicle speakers.
See also:
Check the tire inflation pressure regularly
Check and, if necessary, correct the tire inflation pressure, at least twice a month and before starting on a long trip. Low tire inflation pressure increases rolling resistance and thus raises ...
Storing a trip
Up to 30 trips can be stored in the trip list. If necessary, delete existing trips to be able to store new trips. 1. Open "Options". 2. "Store trip" 3. Enter a name for the ...
Unlocking and opening
► Either unlock the doors together using the button for the central locking system and then pull the door handle above the armrest or ► Pull the door opener twice individually on each ...