Coolant level
Checking
1. Let the engine cool.
2. The coolant level is correct if it lies between the minimum and maximum marks. The marks are on the side of the coolant reservoir.
Adding engine oil
1. Let the engine cool.
2. Turn the cap of the coolant reservoir slightly counterclockwise to allow any excess pressure to dissipate, and then open it.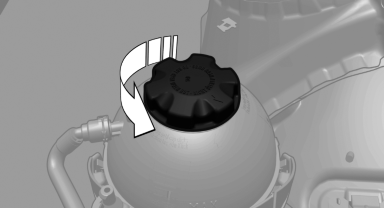 3. If the coolant is low, slowly add coolant up to the specified level; do not overfill.
4. Turn the cap until there is an audible click.
5. Have the cause of the coolant loss eliminated as soon as possible.
See also:
Enabling operation in the rear
Only possible via the iDrive in the front. 1. "Settings" 2. "Allow rear control" 3. Select the desired priority. ...
Winter tires
The manufacturer of your vehicle recommends winter tires for winter roads or at temperatures below +45 ℉/+7 ℃. Although so-called all-season M+S tires do provide better winter tract ...
Before driving into a car wash
In order for the vehicle to be able to roll into a car wash, heed the information regarding Washing in automatic car washes. ...