Coolant level
Checking
1. Let the engine cool.
2. The coolant level is correct if it lies between the minimum and maximum marks. The marks are on the side of the coolant reservoir.
Adding engine oil
1. Let the engine cool.
2. Turn the cap of the coolant reservoir slightly counterclockwise to allow any excess pressure to dissipate, and then open it.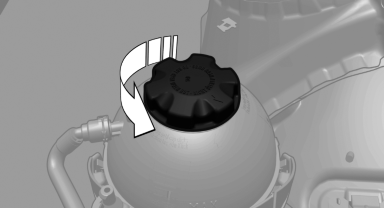 3. If the coolant is low, slowly add coolant up to the specified level; do not overfill.
4. Turn the cap until there is an audible click.
5. Have the cause of the coolant loss eliminated as soon as possible.
See also:
Office
...
Setting the voice dialog
You can set whether the system should use the standard dialog or a shorter version. In the shorter variant of the voice dialog, the announcements from the system are issued in an abbreviated fo ...
The concept
The DTC system is a version of the DSC in which forward momentum is optimized. The system ensures maximum forward momentum on special road conditions, e.g., unplowed snowy roads, but driving st ...