Coolant level
Checking
1. Let the engine cool.
2. The coolant level is correct if it lies between the minimum and maximum marks. The marks are on the side of the coolant reservoir.
Adding engine oil
1. Let the engine cool.
2. Turn the cap of the coolant reservoir slightly counterclockwise to allow any excess pressure to dissipate, and then open it.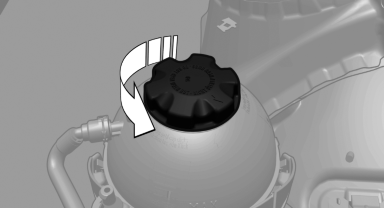 3. If the coolant is low, slowly add coolant up to the specified level; do not overfill.
4. Turn the cap until there is an audible click.
5. Have the cause of the coolant loss eliminated as soon as possible.
See also:
Route
Different views of the route are available during destination guidance: ▷ Arrow view. ▷ List of route sections. ▷ Map view. ▷ Arrow view in the Head-up Display ...
Starting navigation system
1. Press the button on the controller. 2. "Navigation" The navigation system can also be accessed directly with the button on the controller. ...
DOT Quality Grades
Treadwear Traction AA A B C Temperature A B C Conform to Federal Safety Requirements All passenger car tires must conform to Federal Safety Requirements in addition to these grades.◀ ...