Coolant level
Checking
1. Let the engine cool.
2. The coolant level is correct if it lies between the minimum and maximum marks. The marks are on the side of the coolant reservoir.
Adding engine oil
1. Let the engine cool.
2. Turn the cap of the coolant reservoir slightly counterclockwise to allow any excess pressure to dissipate, and then open it.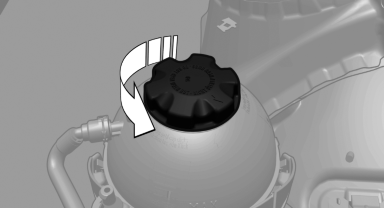 3. If the coolant is low, slowly add coolant up to the specified level; do not overfill.
4. Turn the cap until there is an audible click.
5. Have the cause of the coolant loss eliminated as soon as possible.
See also:
At a glance
A business search can be opened via BMW Online. License conditions This product contains NetFront Browser software of ACCESS Co., Ltd. Copyright © 2007 ACCESS Co., Ltd. All rights reserved. Ne ...
At a glance
The concept Mobile phones or other external devices such as audio players can be connected to the vehicle via Bluetooth. After these devices are paired once, they are recognized automatically ...
Saving a function
1. Highlight the function via the iDrive. 2. Press the desired button for more than 2 seconds. ...