Coolant level
Checking
1. Let the engine cool.
2. The coolant level is correct if it lies between the minimum and maximum marks. The marks are on the side of the coolant reservoir.
Adding engine oil
1. Let the engine cool.
2. Turn the cap of the coolant reservoir slightly counterclockwise to allow any excess pressure to dissipate, and then open it.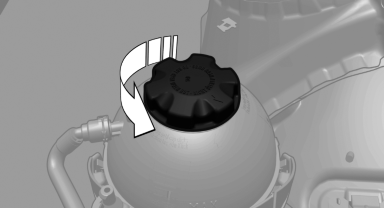 3. If the coolant is low, slowly add coolant up to the specified level; do not overfill.
4. Turn the cap until there is an audible click.
5. Have the cause of the coolant loss eliminated as soon as possible.
See also:
Rear operation
The control unit is located in the center console in the rear. Rear operation 1. Temperature, left rear seating area 2. AUTO program 3. Display 4. Temperature, right rear seating area 5. Sea ...
Special destinations
General information Even with the most current navigation data, information regarding particular individual destinations may have changed. For instance, certain gas stations may not be operatin ...
Supplementary text messages
Addition information, such as on the cause of a fault or the required action, can be called up via Check Control. The supplementary text of urgent messages is automatically displayed on the Cont ...