Adjusting

Danger of burns when screen is folded out
Do not reach behind the screen; otherwise, there is the danger of getting burned. The back of the screen can become very hot.◀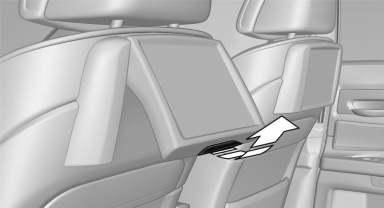 ▷ To fold out: pull at the bottom edge.
▷ To fold in: press against the bottom edge.
See also:
The design: commanding presence and athletic elegance.
The new BMW 6-Series Coupe heralds the arrival of an exceptionally sporty and exclusive 2+2-seater in the premium segment of top-class Coupes. The new model's extra length and width over its prede ...
Tasks
Displaying the task list Display tasks that are due within the next 90 days. 1. "Office" 2. "Tasks" Sorting the task list 1. Select the header in the task list. 2. Sel ...
Run-flat tires
Label RSC label on the tire sidewall. The wheels are composed of special rims and tires that are self-supporting, to a limited degree. The support of the sidewall allows the tire to remain dr ...