SPORT
Consistently sporty tuning of the suspension for greater driving agility with maximum driving stabilization.
The program can be configured to individual specifications.
The configuration is stored for the remote control currently in use.
Activating SPORT

Press the button repeatedly until SPORT appears in the tachometer.
Configuring SPORT
If the display on the Control Display, is activated, the sport program can be set to individual specifications.
After the sport program is activated, select "Configure SPORT mode" on the displayed panel and configure the program.
Optionally, the sport program can be configured before it is activated:
1. "Settings"
2. "SPORT mode"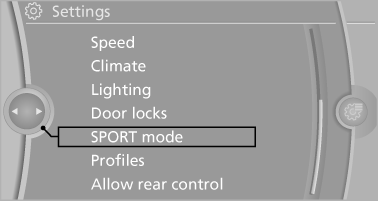 3. Configure the program.
This configuration is retrieved when the sport program is activated.
See also:
1975: the first generation - premiere as a two-door sedan with high-output four-cylinder engines
The presentation of the first BMW 3-Series in July 1975 saw BMW write a new chapter into the automotive history books. The two-door sedan wasted no time in leaving its own distinctive stamp on the ...
Closing tailgate
Drive with the tailgate closed Only drive with the tailgate closed; otherwise, passengers and other road users may be endangered or the vehicle may be damaged if an accident occurs or during ...
Children should always be in the rear
Accident research shows that the safest place for children is in the back seat. Transporting children in the rear Only transport children younger than 13 years of age or shorter than 5 ft/1 ...